RobotWorx Donates Portion of Sales to Fallen Patriot Fund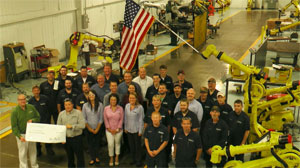 RobotWorx, a Marion, Ohio robotics integrator of new and reconditioned robot systems and work cells, continued its tradition of contributing to the community by turning robot sales into charitable donations for the military families of fallen and seriously injured heroes.

The management team wanted to organize a patriotic sales event and decided to donate $250 of every robot sold between Memorial Day and Independence Day to the Fallen Patriots Fund. The sales team sold a total of 50 robots in all, which allowed RobotWorx to donate a total of $12,500 to the fund. Jay Byrd, Vice President of RobotWorx, presented the check in a ceremony on July 9, 2015.

"We are grateful to live in a free country and to have this ability to support our troops and their families," Byrd said. It is an honor for RobotWorx to contribute to this organization.

The Fallen Patriot Fund is a fund supported by The Mark Cuban Foundation. This fund provides vital financial resources to the families of U.S. personnel who were killed or seriously injured during Operation Iraqi Freedom. All proceeds are dispersed to families.