RobotStudio Palletizing PowerPac Highlights Expanded ABB Palletizing Portfolio Unveiled at Interpack 2011 in Germany
Revolutionary new software merges features of a simulation tool with production software; simplifies programming and reduces installation costs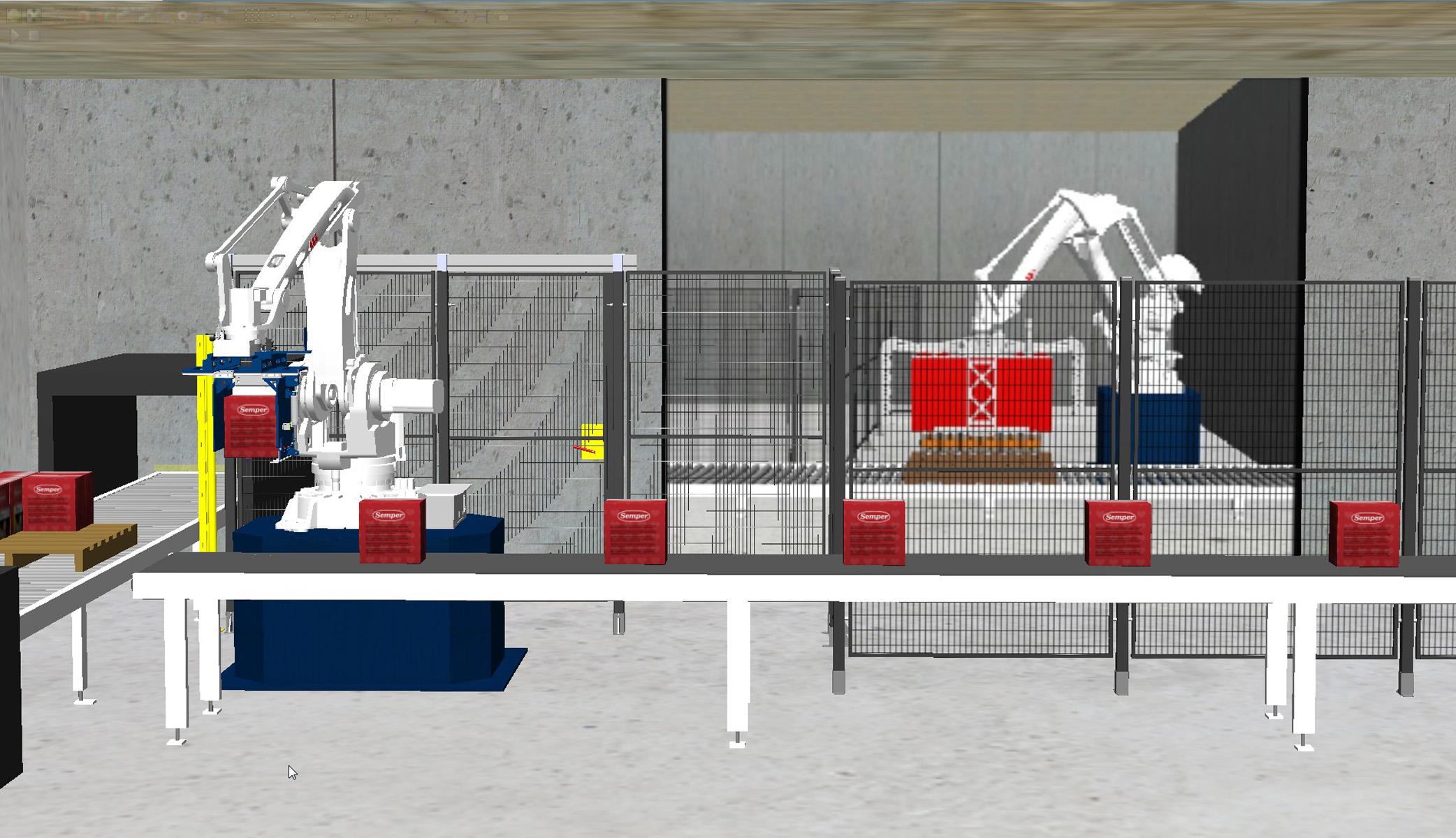 AUBURN HILLS, Mich. – ABB Robotics, a leading supplier of industrial robots, introduced a comprehensive range of new palletizing products at Interpack 2011, May 12-18 at the Düsseldorf Fairgrounds in Germany. The new offerings include two new palletizing robots and three new palletizing grippers. The most revolutionary aspect of the expanded palletizing portfolio, however, is the Palletizing PowerPac for RobotStudio, a powerful new programming software that merges the features and benefits of a graphic system simulation tool with application programming software.

"The new palletizing robots and grippers have been designed and validated to be performance leaders in their respective classes, but the most significant aspect of the introduction is the Palletizing PowerPac," said Rick Tallian, consumer industry manager, ABB Robotics. "We have integrated our proven PickMaster 5 palletizer programming technology into the ABB RobotStudio simulation environment. The result is the ability to create a fully simulated robotic palletizing program that can also be downloaded directly to a robotic system on the factory floor."

In creating the new Palletizing PowerPac ABB greatly simplified the task of programming complex robotic palletizing applications; providing a programming software that will allow users to configure, simulate and program ABB robots and grippers for palletizing solutions in one step, with little or no robot programming experience required. Following the PickMaster theme the new Palletizing PowerPac automatically generates a proven RAPID application program utilized to command the activities of the robot. What used to take days will now take minutes. It will also allow potential users to validate the performance of their palletizing system before risking any equipment investments.

"Robotic palletizing systems are often very complex, configured to handle multiple incoming container configurations and pallet patterns. This makes it difficult to evaluate system performance and determine if the robot can reach all pick and place locations within the work cell," said Tallian. "With the new PowerPac these performance factors can be accurately evaluated during the conceptual phases of the project."

RobotStudio allows the designer to accurately locate the position of multiple product infeed conveyors, pallet build positions, pallet handling conveyors, robot safety enclosures and other physical barriers present in the manufacturing facility. Once the system layout is established the correct robot can be selected for the application. The entire range of ABB robots is available for validation testing in the simulated application.

To complete the system design ABB's new FlexGrippers are also modeled in the PowerPac module. The FlexGrippers are fully functional in the program to provide more accurate results for system performance. Once the system is configured, all incoming product configurations and pallet patterns are entered into the PowerPac to evaluate performance. The fully functional simulation is not only visually impressive, but very accurate, providing an excellent tool for demonstrating the system's operation to end-user engineering teams and management.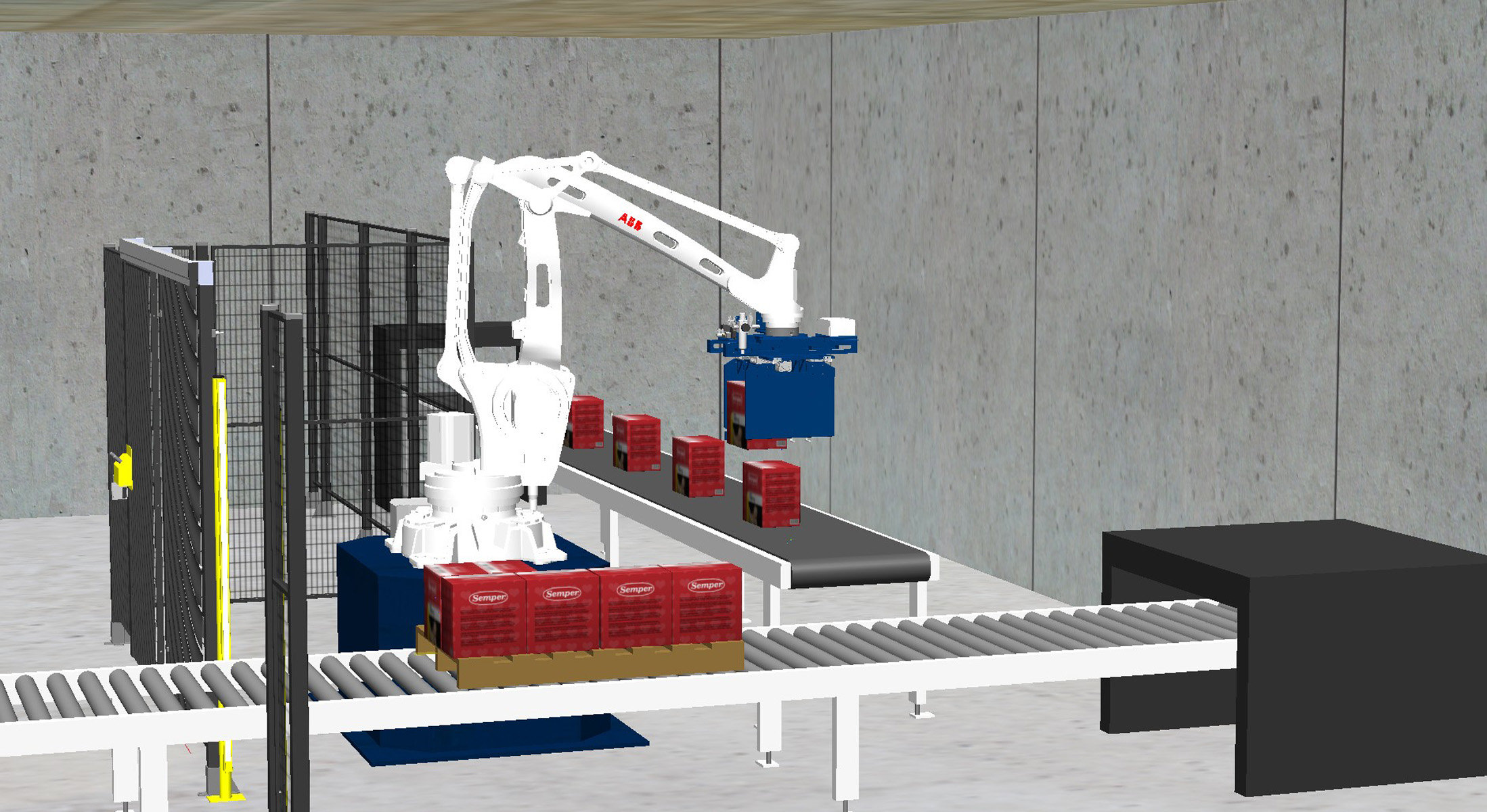 One of the most popular interactive exhibits at Interpack 2011 was the "Five Minute Challenge" held at the ABB Robotics booth. Several hundred show attendees experienced firsthand the strength of the new PowerPac software by taking various product configurations and defining and programming them into a fully functioning palletizing cell in five minutes or less.

"We are excited about the entire portfolio of new palletizing products, but what brings it all together is the new Palletizing PowerPac," said Joe Campbell, vice president of the ABB Robot Products Group in the US. "It will make the entire process of setting up and running a palletizing system easier and more economical - easier to use and easier to update, while significantly reducing engineering time and the cost of implementation."

In addition to the PowerPac the other palletizing products introduced at Interpack 2011 were:
The compact IRB 460, the fastest known palletizing robot on the market. Capable of up to 2,190 cycles per hour, this 4-axis robot is perfect for high-speed end-of-line palletizing and bag palletizing of products that weigh up to 50 kilograms.
The IRB 760 designed for high-output, full-layer palletizing. Boasting an impressive payload capacity of 450 kilograms and a reach of 3.2 meters, this 4-axis robot features a high inertia wrist – double that of competitors – that enables it to rotate heavier and larger products faster than any other robot.
Three FlexGripper end-of-arm tools round out the new hardware product offerings, including a heavy-duty claw for high-speed bag palletizing, a vacuum gripper for light and medium weight cases, and clamp gripper for handling heavy cases.
In conjunction with the existing palletizing products ABB now offers a complete portfolio of robotic products to service end-of-line, centralized, full layer and bag palletizing applications.

About ABB
ABB is a leader in power and automation technologies that enable utility and industry customers to improve their performance while lowering environmental impact. The ABB Group of companies operates in around 100 countries and employs about 124,000 people.

About ABB Robotics
ABB Robotics is a leading supplier of industrial robots - also providing robot software, peripheral equipment, modular manufacturing cells and service for tasks such as welding, handling, assembly, painting and finishing, picking, packing, palletizing and machine tending. Key markets include automotive, plastics, metal fabrication, foundry, electronics, machine tools, pharmaceutical and food and beverage industries. A strong solutions focus helps manufacturers improve productivity, product quality and worker safety. ABB has installed more than 190,000 robots worldwide.