Robots for Meat Processing Webinar
Robots, end effectors and controls are on the market now that meet stringent washdown guidelines from the FDA. This opens up a whole new way to process meat. Robotic Industries Association, in conjunction with the trade journal National Provisioner, cover the basics of using robotics for meat processing in the webinar, "Robotics," February 23, 2010, at 2 p.m. EDT.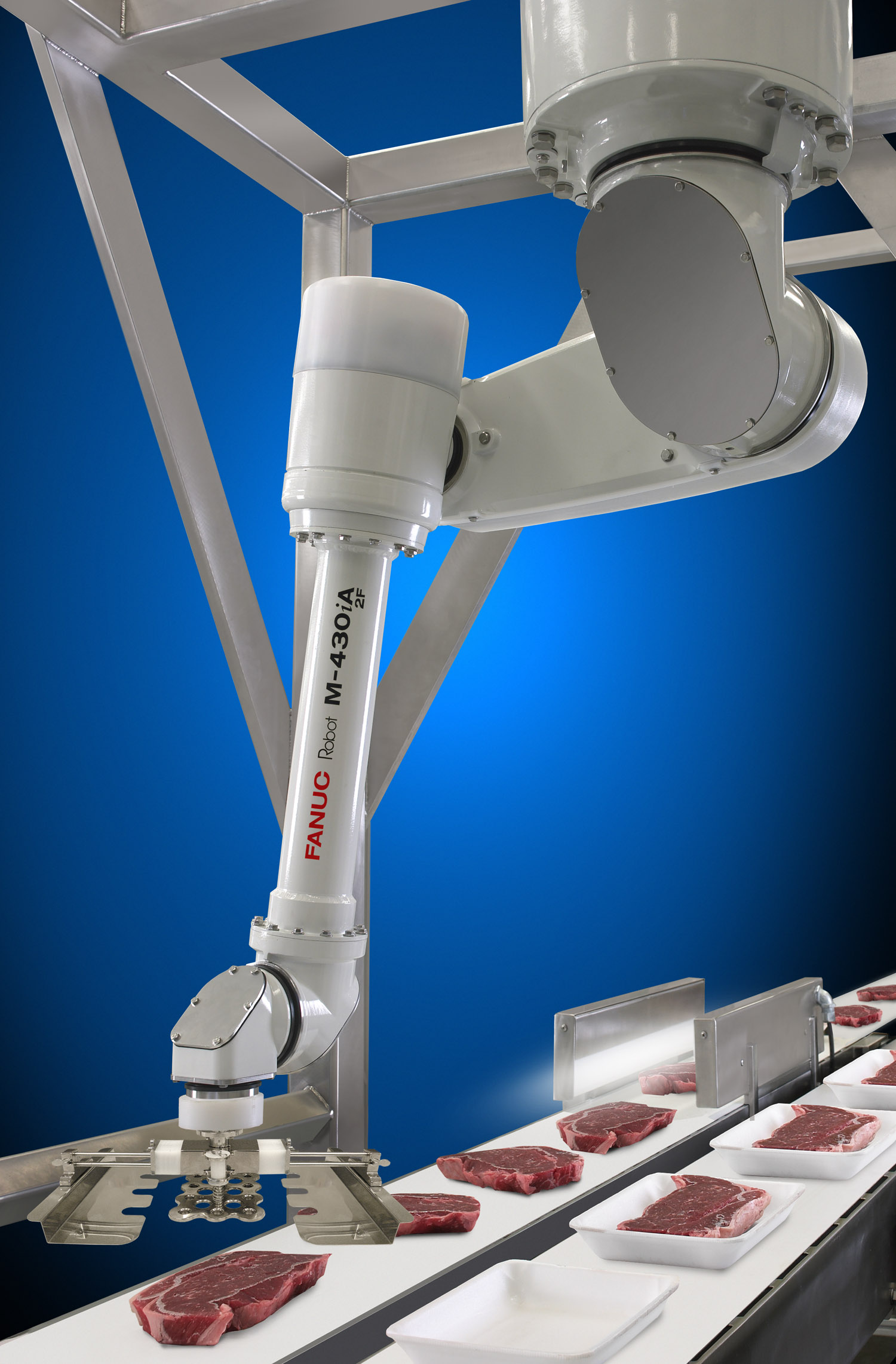 "One of RIA's elite Platinum Supplier members, FANUC, is providing the speaker for this webinar," said Brian Huse, Director, Marketing & PR. The speaker, Dick Motely, will review a variety of poultry, pork, red meat and dairy processor case studies highlighting key considerations regarding the use of and investment in robotics.

"With the help of our friends at National Provisioner, we want to share how robots already are a success in this industry segment and let others see once again how versatile robots are," said Huse. "The webinar covers fundamentals of food processing robotics, return on investment, labor savings, regulatory considerations and other key issues."

Whoever works in the meat processing industry can attest to the demanding nature of a job that mandates safety, cleanliness, repetition and long hours of handling. Robots excel at delivering cost savings and eliminating risk for this kind of job according to Huse.
For more information call Association headquarters at (734) 994-6088.
About RIA
Founded in 1974, RIA is the only trade group in North America organized specifically to serve the robotics industry. Member companies include leading robot manufacturers, users, systems integrators, component suppliers, educators, research groups, and consulting firms. RIA is renowned worldwide as the sponsor of the Joseph F. Engelberger Robotics Awards, co-produces the biennial International Robots, Vision & Motion Control Show and Conference plus many regional events, and is secretariat of the ANSI/RIA R15.06-1999 Robot Safety Standard. RIA is the sole source of North American robotics industry statistics which are included in the World Robot Statistics published by the International Federation of Robotics. RIA also is publisher of the industry's leading web portal, Robotics Online (www.robotics.org).
About National Provisioner
Established in 1891, National Provisioner is the meat, poultry and pork industry's leading technology magazine reaching executive management, operations and engineering decision-makers. In addition, National Provisioner offers the industry's most sophisticated industry website portal, ProvisionerOnline.com, as well as, a weekly eNewsletter Provisioner Prime and the industry's only strategic, one-on-one, buying event, MeatProcessingXchange.