Robotiq Makes Force Control Easy with Force Copilot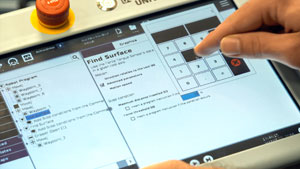 New software unleashes force sensing on UR e-Series
Quebec City, Canada — Robotiq is launching Force Copilot, an intuitive software to operate Universal Robots e-Series' embedded force torque sensor. Force Copilot accelerates the programming of a whole host of applications, including part insertion and surface finding, among many others.
Force Copilot's sensing functions increase flexibility and reliability in machine-tending, assembly, finishing, and pick-and-place applications. A suite of setup tools allows the user to hand-guide the robot on complex trajectories. The software makes it easy to place objects precisely in jigs, trays, and chucks, and it facilitates assembly applications through its alignment, indexing, and insertion functions. Finally, the intuitive interface unlocks finishing applications, with adjustable adaptive compliance and constant force for all robot axes.
"We want to free every production line operator in the world from repetitive manual tasks. With Force Copilot, we are making complex robot-movement programming accessible to anyone," says Robotiq CEO Samuel Bouchard. "Force Copilot works as the human operator's guide, helping program the robot quickly and easily. We're proud to see the next step of the human-robot collaboration take shape."
About Robotiq
At Robotiq, we free human hands from repetitive tasks. Our tools and know-how simplify collaborative robot applications so that factories can start production faster. Robotiq works with a global network of robotics experts who support their local manufacturers.