Robotics Supply Chain: What impact has the Japanese tragedy?
v style="line-height: normal; margin: 0in 0in 0pt">A new assessment on the robotics industry has been reached by the International Federation of Robots that takes into account the earthquake and tsunami effect on northeast Japan. With all the chaos, a positive outlook continues for the robotics market.
Not long before Automate 2011 in March at McCormick Place in Chicago, the International Federation of Robotics (IFR) reported a shipment of 115,000 industrial robots (in 2010) which means that the number of units sold worldwide almost doubled compared to the very weak year 2009.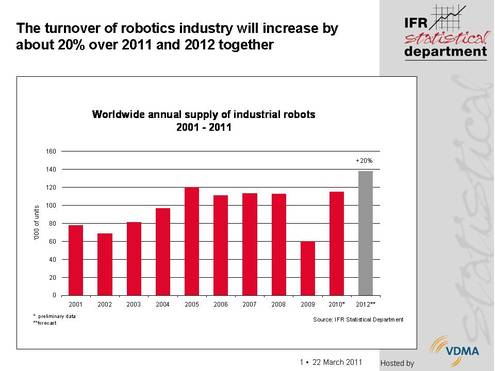 The IFR expects a bright future for robotics: The prospects for 2011 and beyond are promising as the robotics industry benefits from the increasing demand for automation especially in the Asian growing markets with China on the top. In 2011 a further increase of robot sales between 10% and 15% is expected which would bring a new peak level of about 130,000 sold units within reach. Between 2012 and 2014 a moderate annual growth rate of 5% (in average) is more likely.
This forecast has been set up by the IFR prior to the recent tsunami in Japan and its substantial effects on the Japanese economy. During the IFR Industrial Robot Suppliers Meeting on 24 March in Chicago a threat analysis was performed with the knowledge of the participating robot suppliers from all over the world. These are the results:
·
The strong demand is continuing. The incoming orders were still increasing substantially in the first quarter 2011. The economical upswing already causes longer delivery times for robot components and complete robot systems.
·
Most suppliers of robots and components for robots in Japan are continuing to produce, dispatch and ship their products. But the shortage of energy in Japan and the partly destruction of production sites in certain areas of Japan will very likely lead to a shortage of components for robots for the Japanese market but also for the export markets. This will lead to a further prolongation of delivery times for robots.
·
Depending on the duration of the shortage of components on the world market the expected increase of turnover will partly be shifted from 2011 to 2012. A likely scenario is that the growth rate for 2011 will be less than 15% and that the growth rate for 2012 will be above 5%. The IFR believes that the turnover of robotics industry will increase by about 20% over both years together.
The IFR will closely monitor the development and keep in touch with the Japan Robot Association (JARA). Regular updates on the situation will be published.
Frankfurt, 06 April 2011