Robotics Online Delivers Live Stats to Members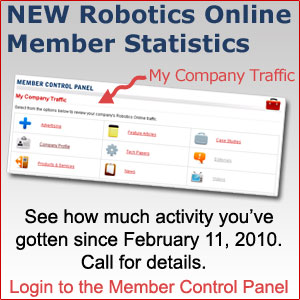 ANN ARBOR, Michigan -- Now Robotic Industries Association offers the ability for members to see statistics for activity on their content and ads on Robotics Online. It can be accessed through the website, www.robotics.org, by any member.
Members who want to know more about the activity for their content and ads on Robotics Online can login to Robotics Online and click "My Company Traffic" where every piece of content is tracked, including ads. For more than a year, RIA monitored Google Analytics and compared findings to the Robotics Online traffic module as part of the quality assurance phase before making this function live.
"This new function allows members to measure and fine tune their presence on Robotics Online," said Brian Huse, Director, Marketing & PR for RIA. "Now we want our members to give it a good go and see what they think. Feedback is welcome."
According to Google Analytics 238,734 visitors came to Robotics Online in 2009. Of that, 55% came from search engine referrals and 25% was direct traffic from loyal members and their constituents. The site is so well optimized it is indexed routinely by Google and produces copious amounts of organic search results for members that have content on Robotics Online.
"The key for members is to have several layers of content on Robotics Online. It means a lot to show up in searches, and so posting is a must," said Huse. "Members can post news, articles, products, services and many other types of content including video. Robotics Online is even an official source of Google News Alerts which is granted only at the discretion of Google."
"My Company Traffic" is a new member benefit for suppliers, integrators and consultants in the automation sector who seek good marketing intelligence. Those who belong to the Association have 24/7 access to real-time stats and the ability to change and add or remove content at will.
"We can help members optimize their results, and we want them to look and ask about the stats they see," said Huse. "RIA can help members increase visibility and brand presence in a number of ways just not available from other sites."
Founded in 1974, RIA represents automation companies including leading robot manufacturers, component suppliers, system integrators, end users, research groups, and consulting firms. The association sponsors the biennial International Robots, Vision & Motion Control Show and Conference plus many regional events, and is secretariat of the ANSI/RIA R15.06-1999 Robot Safety Standard. RIA also serves as North America's representative to the International Federation of Robotics and is the only source of North American robot sales statistics. It sponsors the world's most comprehensive robotics website, Robotics Online (www.robotics.org).
For more information about RIA and the robotics industry, visit www.robotics.org or contact RIA Headquarters at 734-994-6088.
Contact:
Brian Huse
Robotic Industries Association
734/994-6088