Robotics For All Podcast by AV&R! - Season 2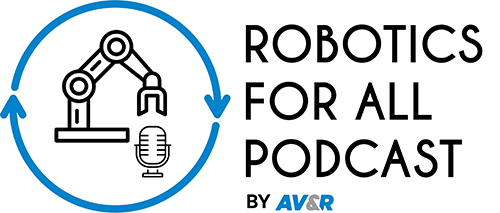 At AV&R our mission is to humanize robotics. We decided to create this podcast series to help you demystify the world of robotics and discover what some of the brightest minds in the field are doing. Welcome to Robotics for All Podcast by AV&R!
Season 2
Episode 1
Do Robots Have a Place on Our Sidewalks?
Guest: Bern Grush from the Urban Robotics Foundation
Episode 2
Building Blocks for Democratizing Robotics
Guests: Yehuda Elmaliah and Ari Yakir from Cogniteam
Episode 3
Unlocking the 2022 Robotic Trends in North America
Guest: Carl Doeksen from 3M
Episode 4
Telepresence Robot Tour of OhmniLabs Robotics Design Center
Guest: Dr. Thuc Vu from OhmniLabs
Episode 5
A New Approach to Getting Farm Work Done
Guest: Jad Tawil from Nexus Robotics
Episode 6
Robots Climbing the Stairway of Innovation
Guest: Frank Naccarato from Quantum Robotic Systems Inc.