Robot Paints Your Sleep Pattern
Have you ever wondered what an interpretation of your sleep might look like?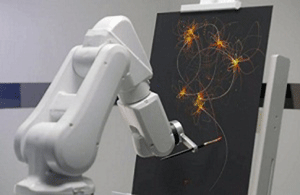 ABB, a leader in power and automation technologies, has deployed advanced robotics to venture into territory once considered the exclusive domain of the human imagination: original works of art. What's more, the art is produced in collaboration with human subjects – while they sleep.
The "Sleep Art" project is a collaboration between the advertising agency BETC Digital (HAVAS WORLDWIDE group), the Swedish production company ACNE, and ABB France's Robotics business; it is part of a Facebook promotion for the European hotel chain ibis (ibis, ibis Styles and ibis budget).
Beyond assembly and welding!
ABB's smallest robot, the IRB 120, plays the role of painter, transcribing the overnight movements of sleeping guests participating in the project. Using software-processed data transmitted by 80 sensors embedded in the mattress, an individual's sleep pattern is converted into art when the IRB 120 selects colors from several paint pots and executes its work on canvas, creating a one-of-a-kind rendering that no human is capable of.
The mattress sensors collect data related to temperature, movement and sound, feeding real-time information into a digital algorithm. Using software produced by ACNE, and an interface developed by ABB, the robot converts the data into a visual interpretation of the energy and motion of sleep.
The campaign, which kicked off Oct. 13 at the ibis hotel in Paris, will travel to Berlin and London before concluding in late November. A complete gallery will be posted online, after which participating guests will receive their original works of "sleep art" to keep.
The Sleep Art project is one of the latest examples of how advanced robotics is transcending its traditional application in automated manufacturing and emerging into more visible roles in consumer marketing and entertainment, noted ABB experts who worked on the project.
ABB, a global technology leader in robotics with more than 200,000 robots in use around the world, continues to make game-changing advances in automation that serve to boost manufacturing and industrial productivity while radically improving employee working conditions. Recent breakthroughs include new gripping technology with human-like sensory capacity, and a dual-arm assembly robot that is specially designed and programmed to work safely next to humans.
With increasing frequency, the robotics technologies and automation platforms developed by ABB are finding non-traditional uses, such as the Sleep Art project, showcasing the capabilities of robotics to perform an expanding range of services to a growing number of businesses.

See the SleepArt film:



ABB is a leader in power and automation technologies that enable utility and industry customers to improve performance while lowering environmental impact. The ABB Group of companies operates in around 100 countries and employs about 135,000 people. The company's North American operations, headquartered in Cary, North Carolina, employ about 20,000 people in multiple manufacturing, service and other major facilities.