Robot Integrator Uses Online Videos to Serve Customers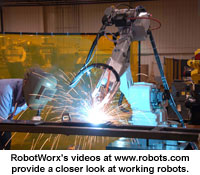 MARION, OHIO – MAY 14, 2007 – Online videos are bringing robots to life for RobotWorx customers. The industrial robot integrator recently added nearly eighty videos to their website, www.robots.com. This multimedia approach to robot sales, service, and education is transforming the way they serve customers.
Online videos provide a visual reference point for customers, especially those who are new to robotics. RobotWorx' current offerings include live demos of robots and applications, refurbishment process footage, and facility tours.
With videos, the content has expanded beyond robot statistics and static photos. Sales representative Tim Brady said they allow him to serve customers faster and more effectively. ''They enable the customer to get a better idea about the actual physical size of the robots,'' Brady said.
RobotWorx president Keith Wanner said he was inspired to add videos when he saw the popularity of YouTube.com. ''Since broadband is now commonplace, videos are becoming more practical,'' Wanner said.
Videos are quite practical for RobotWorx, since the majority of their sales are generated from their online websites. RobotWorx web designer Christi Hart said the videos attract a lot of traffic to their sites. ''It is by far our most popular section,'' she said. ''Not only do these pages search well, but they are often the first stopping point for new visitors to our site.''
Wanner said the videos are so successful he wants to include them with quotes and add online service and maintenance videos soon. ''When you are trying to explain how to fix a robot, it's hard to use words and pictures, because you have to use so many,'' Wanner said. ''Video allows us to explain the technology simply.''
Although many robotics manufacturers already had online video demos, RobotWorx was the among the first robotics integrators to begin offering them. Since then, many competitors have followed their lead. ''We have the largest collection and the most variety available on the web,'' Hart said.
RobotWorx has integrated and refurbished new and used robotic equipment for the last 15 years. Its staff of 35 includes certified robot technicians and engineers. RobotWorx refurbishes and builds robotic systems at its 100,000 square foot facility and maintains a strong online sales presence.
To view RobotWorx videos, go to http://www.robots.com/movies.php.
RobotWorx
370 W. Fairground St. Marion, Ohio 43302
ph: 740-383-8383
www.robots.com