RND AUTOMATION Acquires MDC Packaging Machinery
Expanded Product Offerings to Benefit CPG and Medical Device Companies Worldwide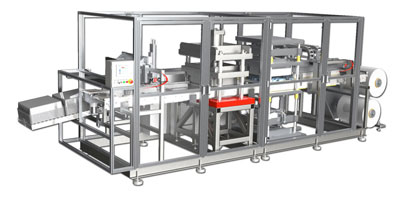 Sarasota, FL – RND Automation & Engineering, LLC announced today that it has acquired the assets of MDC Packaging Machinery, a manufacturer of horizontal and vertical form, fill, and seal packaging machinery, as well as rollstock thermoformers and tray sealers. MDC offers both standard and custom solutions for the medical device, pharmaceutical, consumer product, and food/beverage industries.
"We have worked with MDC over the last several years on various projects", said Sean Dotson, President & CEO of RND Automation. "When they announced intentions to sell, we knew that RND had to be the buyer. The synergies were too perfect of an opportunity to pass up. We have an incredible opportunity to expand our capabilities and provide value added offerings to MDC's customers with equipment that will provide the most effective solutions for our customers' unique needs."
MDC's compact MiniPack™ and larger MedPack™ machines offer solutions for both rigid and flexible packaging. Their tray sealers offer low volume, high mix medical device manufacturers the ability to semi-automate the packaging of high value devices. Utilizing vision, barcode scanning along with ink, thermal and laser printing, MDC's equipment can automate and ensure UDI compliance in the medical sectors as well as help track lot and date codes in the consumer product sector.
RND will add its innovative custom robotics and material handling skills to MDC's offerings allowing their packaging machinery to be both loaded and unloaded automatically. The combination of the two companies' offerings will complete a vertically integrated portfolio of products. RND & MDC now offers everything from assembly, inspection, validation, loading, packaging, unloading, post packing inspection and additional value-added services, giving its customers a single source for all their manufacturing needs.
Both Michelle Bergeron, President of MDC Packaging and Jon Ford, VP of Sales, founders of MDC, will stay on and help lead the sales division of MDC Packaging.
"Michelle Bergeron and I formed MDC 15 years ago, to service and support the medical device and consumer product industry with quality machinery manufactured in the USA" said Jon Ford. "The business has grown consistently since and we felt 2018 was a perfect time to join forces with a quality automation house. I could not be more pleased to be part of RND Automation and look forward to continued growth for both entities."
RND will move its flexible vertical form, fill, and seal pouch machine, The KANGA™ into the MDC division, completing MDC's offering of products. The KANGA is perfect for low volume, high mix medical device, pharmaceutical and electronics manufacturers looking for a low-cost solution to make custom sized heat seal pouches. Numerous options such as printing, vision inspection and robotic loading can be integrated with the KANGA to meet any packaging need.
Both RND Automation & MDC Packaging have enjoyed double digit year over year growth for the past three years and expect this trend to continue. Each division will maintain its current staff and locations until Q2 2018 when they will both move to a 35,000 SF state of the art manufacturing facility located in Lakewood Ranch, Florida.
ABOUT RND AUTOMATION & ENGINNERING
RND Automation, Florida's premier custom automation machinery and robotic workcell manufacturer provides assembly, inspection, robotic integration and material handling solutions to industries as diverse as medical device, pharmaceuticals, aerospace, defense and ammunition, and consumer products. RND Automation was named FANUC Robotics 2017 Authorized System Integrator "Innovative System of the Year" at their annual conference in San Diego.
For more information about RND Automation & Engineering visit www.rndautomation.com
For more information about MDC Packaging visit www.mdcengineering.com
Company Contact
Sean Dotson
Tel: (941) 870-5400