Richard Litt of Genesis Systems Group Leads RIA in 2008 as President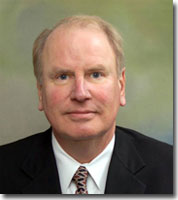 ANN ARBOR, Michigan, December 12, 2007 – Richard Litt, Founder, Chairman and Chief Executive Officer of Genesis Systems Group, LLC (Davenport, Iowa), has been elected as the new president of Robotic Industries Association (RIA) for 2008. RIA has been the industry's trade group since 1974. Litt is RIA's 18th president.
Litt founded Genesis Systems Group in 1983 after a decade of building the small Rock Island firm of
R & R Welding Supply through a variety of robotic-related inventions applicable to the welding industry. Litt's term as RIA president is historically significant, being the first time that a member representing the System Integrator segment assumes the association's presidency. He succeeds Trevor Jones, Senior General Manager, Yaskawa Motoman Canada, Ltd. (Mississauga, ON, Canada), who served terms as RIA President in 2006 and 2007. Jones will continue to serve on the RIA Board as Past President.
Regarding the association, Litt says, "RIA is a strong organization. What we do is important. We have a solid financial footing, talented staff, an outstanding Board of Directors, a vibrant industry and a great future. I am honored to have the opportunity to lead." On the status of the robotics industry and RIA, Litt states, "Our industry has changed, our association has matured and the constituencies we serve have become more diverse."
Litt has been on the RIA Board of Directors since 2000, and was most recently the RIA First Vice President. Additionally, as a leading spokesman for robotic welding automation, Litt is active as a member of the Association for Manufacturing Technology and has served twice as chapter chairman of the American Welding Society. He currently holds three patents related to robotic apparatus.
Regarding his term as RIA President, Litt comments, "I plan to shepherd our association in providing expanded membership benefits to the rapidly growing and largely untapped System Integrator membership subgroup. I hope to have the opportunity to participate in the continuation and expansion of current RIA programs and, at the same time, inspire a look toward new programming that will further advance the value we bring to our membership and our industry."
Previewing another area that he hopes to concentrate on during his term, Litt believes that, "It may be the right time to shift some of our planning a bit more toward the horizon or perhaps, over the horizon. We will focus on determining the most important one or two strategic initiatives to pursue in the near term while laying out successive initiatives that we may pursue over time."
In addition to Litt and Jones, four other Directors comprise the 2008 RIA Executive Committee including: Dean Elkins of Motoman Inc. as First Vice President; Catherine Morris of ATI Industrial Automation as Second Vice President; Michael Kunkle of Harley-Davidson Motor Co. as Secretary & Treasurer and Jeff Burnstein of RIA as Executive Vice President.
The RIA Board is comprised of seventeen industry leaders, each serving two-year terms. Among the six seats elected for the 2008-2009 term, and joining Litt on the Board, are newly elected Directors John Dulchinos, Adept Technology; Michael Jacobs, Applied Manufacturing Technologies; David Potter, FANUC Robotics America and Stuart Shepherd, KUKA Robotics. Re-elected Directors are Robert Anderson, Chrysler LLC and ?ke Lindqvist, ABB, Inc..
Founded in 1974, RIA represents some 270 North American companies including leading robot manufacturers, component suppliers, system integrators, end users, research groups, and consulting firms. The association sponsors the biennial International Robots & Vision Show and Conference plus many regional events, and is secretariat of the ANSI/RIA R15.06-1999 Robot Safety Standard. RIA also serves as North America's representative to the International Federation of Robotics and is the only source of North American robot sales statistics.
For more information about RIA and the robotics industry, visit www.roboticsonline.com or contact RIA Headquarters at 734-994-6088.
The full roster of RIA Board of Directors for 2008 follows:
2008 RIA Board of Directors


Richard O. Litt
(President)
Chairman/CEO
Genesis Systems Group

Dean Elkins
(1st Vice President)
Sr. General Manager, Midwest
and Eastern Regions
Motoman Inc.

Catherine Morris
(2nd Vice President)
Senior Account Manager
ATI Industrial Automation

Michael Kunkle
(Secretary & Treasurer)
Senior Manufacturing Engineer
Harley-Davidson Motor Co.

Trevor Jones
(Past President)
Senior General Manager,
Yaskawa Motoman Canada, Ltd.

Jeff Burnstein
(Executive Vice President)
Executive Vice President
Robotic Industries Association

Robert Anderson
New Technology Manager
Chrysler LLC

John Burg
President
Automated Concepts, Inc.
Dr. William Drotning
Project Leader, Robotics Center
Sandia National Laboratories

John Dulchinos
President/COO
Adept Technology

Michael Jacobs
President/CEO
Applied Manufacturing Technologies

Åke Lindqvist
Group VP, Head of Global Automotive
Product Sales
ABB Inc.

Harry Pettit
Manager of Systems Engineering
Pepperidge Farm, Inc.

David Potter
Vice President, Distribution Sales
and Support
FANUC Robotics America, Inc.

Roberta Nelson Shea
General Manager
Pilz Automation Safety L.P.

Stuart Shepherd
President
KUKA Robotics

James W. Wells
Senior Staff Research Engineer
General Motors Corporation

Contact:
Jim Adams
Robotic Industries Association
734/994-6088
[email protected]