RIA to Present 2014 Engelberger Robotics Awards to Dr. Rodney Brooks, Dr. Rory Cooper and Dr. Vijay Kumar
rong>Ceremony Set for June 2 in Munich during ISR/ROBOTIK 2014 and AUTOMATICA

(Ann Arbor, Michigan, USA) The robotics industry's highest honor, the Engelberger Robotics Award, will be presented to Dr. Rodney Brooks, Dr. Rory Cooper and Dr. Vijay Kumar at a special ceremony on Monday, June 2 in Munich, Germany. The ceremony is held in conjunction with the joint 45th International Symposium on Robotics (ISR 2014) and 8th German Conference on Robotics (ROBOTIK 2014). The ISR 2014 and ROBOTIK 2014 conference is organized as part of AUTOMATICA, the International Trade Fair for Automation and Mechatronics, June 3-6, 2014 in Munich.

The awards, named after the worldwide "father of robotics," Joseph F. Engelberger, are presented annually by the Robotic Industries Association (RIA), the industry's trade group. Each recipient will receive a special plaque, commemorative medallion and a $5,000 honorarium. Beginning with the initial presentation in 1977, 119 industry leaders from 17 nations have now been selected for this honor.

"We are privileged to continue the tradition of honoring Mr. Engelberger by adding three well deserving individuals to this illustrious list of people that have made a great impact on the robotics industry," said Jeff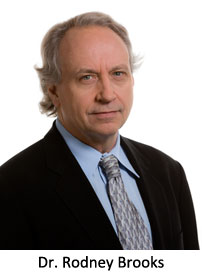 Burnstein, President of RIA. "We're delighted to present the Engelberger awards to Drs. Brooks, Cooper and Kumar this year to recognize their achievements in robotics."

Dr. Rodney Brooks will be awarded the 2014 Engelberger Award for Leadership. Dr. Brooks is the Panasonic Professor of Robotics (Emeritus) at MIT. He is a robotics entrepreneur and is currently Founder, Chairman and CTO of Rethink Robotics, Inc. His past work includes Co-Founder, former Chairman and CTO of iRobot and former Director of the MIT Artificial Intelligence Laboratory and MIT Computer Science & Artificial Intelligence Laboratory (CSAIL).

In his 27 years on the active faculty at MIT and Stanford, Dr. Brooks carried out research in robotics, developing the behavior-based approach to robotics, the first mobile robots that could interact with people and the first humanoid robots in the U.S. Honors Dr. Brooks has received include Founding Fellow of the Association for the Advancement of Artificial Intelligence, Fellow of the American Academy of Arts & Sciences and a Fellow of the Association for Computing Machinery. He received a Ph.D. in Computer Science from Stanford, with bachelor and master degrees from Flinders University of South Australia.

"Clearly the name Engelberger has enormous significance in robotics, so winning an award in Joe's name is quite an honor," stated Brooks. "And to win it for leadership in the industry is an even higher honor."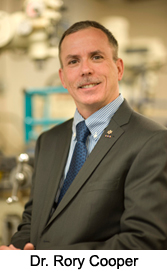 Dr. Rory Cooper will be awarded the 2014 Engelberger Award for Application. From the University of Pittsburgh, Dr. Cooper is Founding Director and VA Senior Research Career Scientist of the Human Engineering Research Laboratories, a VA Rehabilitation Research and Development Center of Excellence in partnership with the University of Pittsburgh. He is also the Co-Director of the NSF Quality of Life Technology Engineering Research Center, a joint effort between the University of Pittsburgh and Carnegie Mellon University.

As a person with a spinal cord injury himself and a Director of the Paralyzed Veterans of America Research Foundation, Dr. Cooper knows all too well how much good can be accomplished through new technological breakthroughs in robotics. Past awards received by Dr. Cooper include the International Paralympic Scientific Achievement Award and he is a two-time winner of the RESNA Distinguished Service Award. His robots and achievements have been featured in places ranging from Popular Science to the cover of a Cheerios box, helping reach a wide public audience to garner support for his work. Dr. Cooper received a Ph.D. in electrical and computer engineering with a concentration in bioengineering from University of California at Santa Barbara, with bachelor and master degrees from California Polytechnic State University, San Luis Obispo.

"Receiving this award is a tremendous honor and humbling experience," said Cooper. "I am very pleased to have assistive and personal robotic applications recognized. People with disabilities and older adults could make great gains in independence and self-direction through robotics."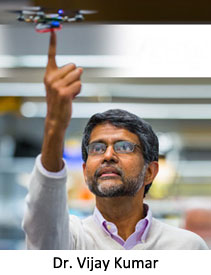 Dr. Vijay Kumar will be awarded the 2014 Engelberger Award for Education. Dr. Kumar is the UPS Foundation Professor in the School of Engineering and Applied Science at the University of Pennsylvania. He has been on the faculty there since 1987, serving many roles including Deputy Dean for Education in the School of Engineering and Applied Science. He also served as the assistant director for robotics and cyber physical systems at the White House Office of Science and Technology Policy from 2012 – 2014, where he was instrumental in the Obama Administration's National Robotics Initiative.

Dr. Kumar's primary research interests are specifically in multi-robot systems and micro aerial vehicles. Some of Dr. Kumar's awards include National Science Foundation Presidential Young Investigator award, Lindback Award for Distinguished Teaching from the University of Pennsylvania and IEEE Robotics and Automation Society Distinguished Service Award. He is a Fellow of the American Society of Mechanical Engineers, a Fellow of the Institution of Electrical and Electronics Engineers, and a member of the National Academy of Engineering. He received his Ph.D. from the Ohio State University after completing his education from the Indian Institute of Technology, Kanpur.

"The Engelberger award is truly special since it's from the RIA, an organization that represents the leading robotics industries," stated Kumar. "As an academic, this is particularly meaningful to me."

RIA is now accepting nominations for the 2015 Engelberger Robotics Awards, to be presented in Chicago, Illinois, USA in March, 2015. For more details about the award or to submit a nomination, visit www.robotics.org.

About Robotic Industries Association (RIA)
Founded in 1974, RIA is a not-for-profit trade association dedicated to improving the regional, national and global competitiveness of the North American manufacturing and service sectors through promotion and enhancement of robotics and related automation. RIA represents 325 robot manufacturers, system integrators, component suppliers, end users, consulting firms, research groups, and educational institutions. The association hosts a number of events including the biennial Automate Show & Conference (March 23-26, 2015 in Chicago), the National Robot Safety Conference (October 14-16, 2014 in Ann Arbor, Michigan) and the Robotics Industry Forum (January 21-23, 2015 in Orlando, FL). RIA also provides quarterly robotics statistics and has a content-rich website, Robotics Online. For more details on RIA, visit www.robotics.org or call 734/994-6088.

About Association for Advancing Automation (A3)
The Association for Advancing Automation is the global advocate for the benefits of automating. A3 promotes automation technologies and ideas that transform the way business is done. A3 is the umbrella group for Robotic Industries Association (RIA), AIA - Advancing Vision + Imaging, and Motion Control Association (MCA). RIA, AIA, and MCA combined represent 750 automation manufacturers, component suppliers, system integrators, end users, research groups and consulting firms from throughout the world that drive automation forward. For more information, please visit our websites: A3 - www.A3automate.org. RIA - www.robotics.org. AIA - www.visiononline.org. MCA - www.motioncontrolonline.org.