RIA to Host International Collaborative Robots Workshop in Silicon Valley on September 30, 2014
Hear Experts From Around the World Speak on the Hottest Topic in Robotics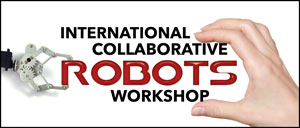 Ann Arbor, Michigan, USA – Collaborative Robots, or robots that work side by side with humans, have created a buzz in the robotics industry. To meet the demand for information on this hot topic, the Robotic Industries Association (RIA) will host the International Collaborative Robots Workshop on September 30, 2014 at the San Jose Convention Center in San Jose, California. The workshop will explore this major advancement in the field with a global view on collaborative robot technology, applications, safety implications, and human impacts.
"We're bringing together international robotics industry leaders, researchers, suppliers and users to help us understand where the industry is today and where it's headed in the future with collaborative robots," said Jeff Burnstein, President of RIA. "We are excited to host the event in Silicon Valley, one of the world's hotbeds for robotics research and start-up companies."
Confirmed speakers at the event include the Founder, Chairman & CTO of Rethink Robotics Dr. Rodney Brooks and the CTO & Co-Founder of Universal Robots Esben Østergaard. Representatives from other leading robotics companies such as Yaskawa Motoman, KUKA, ABB and FANUC will also be speaking. Dr. Henrik Christensen of Georgia Tech and Rich Mahoney from SRI will discuss the latest research regarding collaborative robots. Sam Bouchard, President and Co-Founder of Robotiq, will speak on advances in gripping technology. Marty Linn, Principal Engineer of Robotics at General Motors, will give a user's perspective from the automotive industry.
"We're also planning to include a panel discussion of current and prospective users of collaborative robots," added Burnstein. "Attendees will hear directly from these users the challenges that they face and the opportunities that exist in different industries, such as electronics, life sciences, automotive and consumer goods."
Tabletop exhibits of collaborative robots and related technologies will be included, allowing attendees a hands-on experience with leading robotic products. The exhibition space will be open during breakfast, lunch and an evening networking reception.
The Silicon Valley Robotics group is an association sponsor of this event. Registration for RIA and Silicon Valley Robotics members is $595 before September 1, 2014. ($645 for non-members.) After September 1, registration rate is $645 for members. ($695 for non-members.) For complete details and registration information, visit the event page or call RIA Headquarters at 734/994-6088.
For more information on attending the International Collaborative Robots Workshop as a member of the press, please contact Bob Doyle at (734) 994-6088.
About Robotic Industries Association (RIA)
Founded in 1974, RIA is a not-for-profit trade association dedicated to improving the regional, national and global competitiveness of the North American manufacturing and service sectors through promotion and enhancement of robotics and related automation. RIA represents 325 robot manufacturers, system integrators, component suppliers, end users, consulting firms, research groups, and educational institutions. The association hosts a number of events including the National Robot Safety Conference (October 14-16, 2014 in Ann Arbor, Michigan), the Robotics Industry Forum (January 21-23, 2015 in Orlando, FL) and the biennial Automate Show & Conference (March 23-26, 2015 in Chicago). For more details on RIA, visit Robotics Online or call 734/994-6088.
About Association for Advancing Automation (A3)
The Association for Advancing Automation is the global advocate for the benefits of automating. A3 promotes automation technologies and ideas that transform the way business is done. A3 is the umbrella group for Robotic Industries Association (RIA), AIA - Advancing Vision + Imaging, and Motion Control Association (MCA). RIA, AIA, and MCA combined represent 750 automation manufacturers, component suppliers, system integrators, end users, research groups and consulting firms from throughout the world that drive automation forward.

For more information, please visit our websites: A3 - www.A3automate.org. RIA - www.robotics.org. AIA - www.visiononline.org. MCA - www.motioncontrolonline.org.