RIA Goes to Washington
by Jeff Burnstein, Executive Vice President, RIA --

It has been approximately two decades since RIA has made direct, significant efforts to gain attention for robotics in Washington, DC. We've been active over that time (most notably getting the government to change its tariff rules on imported robots), but usually through affiliations with groups such as NACFAM, which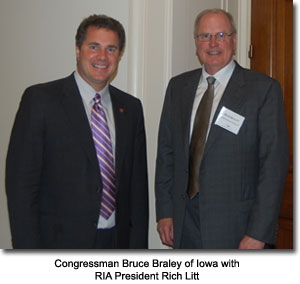 coincidentally is now run by ex-FANUC Robotics President Eric Mittelstadt. But, in terms of appealing directly before Congress or undertaking lobbying efforts, we've decided this wasn't the best use of our funds. It's difficult to have an impact in Washington unless you're willing to spend lots of time and money. This is a game best left to pros unless there's an opportunity to seize.
Such an opportunity developed when RIA joined with the The Technology Collaborative (TTC) out of Pittsburgh to help get a new Congressional Robotics Caucus started. Congressmen Mike Doyle of Pennsylvania and Zach Wamp of Tennessee co-chair this new effort, and it's a good one. They have a real interest in getting other Congressmen and Congresswomen involved in efforts to support robotics, which they feel can strengthen America's competitiveness.
So, RIA agreed to sponsor the Caucus' second meeting which focused on industrial robotics. We put the speaker lineup together and paid for lunch; the Technology Collaborative worked directly with Congressmen Doyle and Wamp's offices to generate attendees for the meeting which was held in the Rayburn Office Building on Wednesday, June 18.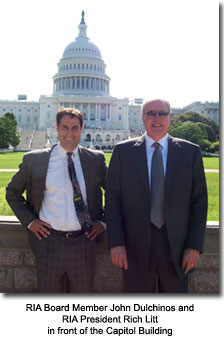 Our speaker roster included myself, RIA President Rich Litt of Genesis Systems, RIA Board Member John Dulchinos of Adept Technology, and RIA member Richard Seif of Lincoln Electric.
We spoke about how America has fallen behind in applying robotics, a technology invented here, and how research funding isn't keeping up with funding by governments in Europe or Asia; how robots can help keep manufacturing jobs in America; how American companies are successfully using robots to compete globally; and how robots make America safer and stronger. Each of our speakers was well prepared – we came in a day early to make sure that our talks fit well together and made powerful points that would resonate with the audience.
Approximately 40 people attended. In addition to Congressmen Doyle and Wamp, C. Richard Neal of Massachusetts and Bruce Braley of Iowa (Rich Litt's Congressman) attended. Key aides also attended to represent Congresswoman Tammy Baldwin of Wisconsin, Rosa DeLauro of Connecticut and Betty McCollum of Minnesota as well as Congressmen Steven LaTourette of Ohio, Steve Pearce of New Mexico, Duncan Hunter of California, Tim Holden of Pennsylvania, George Radanovich of California, and Rob Bishop of Utah.
In part due to our direct efforts, the Congressional Robotics Caucus has now grown from eight members to 15. Congressmen Wamp and Doyle spoke passionately about robotics in our brief conversations with them – it was a delight to be in a room full of politicians who understand and care about manufacturing and automation! They were receptive to our calls for making the R&D tax credit permanent, providing more research & training funds for robotics, and provide more incentives for capital equipment purchases.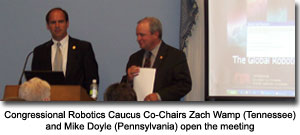 Others in attendance included RIA Board Member Jim Wells of General Motors; Henrik Christensen of Georgia Tech who is working with leading robotics researchers on a robotics research roadmap; as well as representatives from organizations such as IEEE, the American Association for the Advance of Science, Computing Research Association, and the New America Foundation.
We will continue to assist with the expansion of the Robotics Congressional Caucus, and will keep our members posted on new developments. You can learn more by visiting www.roboticscaucus.org. We welcome your input and assistance – be sure to let your Representative know about the Caucus and encourage him or her to participate!