RIA Announces Joseph F. Engelberger Foundation Grants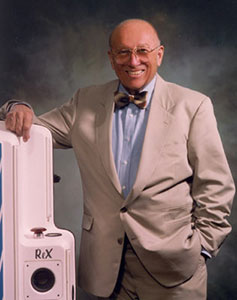 ANN ARBOR, Mich. – Today the Robotic Industries Association (RIA) announced the first annual Joseph F. Engelberger Foundation Robotics Grants. Mr. Engelberger, known as the "Father of Robotics," was recognized throughout the world as the founding force behind industrial robotics. RIA honors his legacy through its annual Joseph F. Engelberger Robotics Awards. Now, RIA plans to further honor and remember him with annual grants that will be awarded through the Engelberger foundation.

The foundation will award two annual $7,500 grants. In 2018, the categories are:
Elder Care Robotics

A $7,500 grant awarded to a company, research organization or university that is working on a useful robotic application for elder care.

Women in Service Robotics

A $7,500 grant awarded to a woman working in a company, research organization or university focused on developing a service robot application to solve a real world problem.
"Although my father is best known for his development of the industrial robot, he was passionate about creating a service robot that could be used in the home or to help the elderly," according to Gay Engelberger. "The new annual Joseph F. Engelberger Foundation grant is designed to help recognize the great work being done in these areas."

"There is a tremendous amount of innovative and exciting research in the robotics industry, but not all of the work – nor the individuals involved – are being properly recognized," according to Jeff Burnstein, RIA President. "Along with the Engelberger Foundation, it is our hope to shine a light on women working in the service robotics industry and those working on robotic applications for elder care."

Award Criteria
Both of these awards will focus on work that is close to commercialization or already commercialized with potential to solve major challenges that impact the usefulness of robotics in elder care and service robotics.

More information and online grant applications can be found at the Joseph F. Engelberger foundation webpage.

Timeline
The deadline for submission of nominees for both grants is November 15, 2018, at 5:00 pm EST.

Joseph F. Engelberger Foundation Awards Committee will include robotics industry leaders and Gay Engelberger.

RIA is a part of the Association for Advancing Automation (A3). More information on the Robotic Industries Association may be found on the website.

About Robotic Industries Association (RIA)
Founded in 1974, RIA is a not-for-profit trade association driving innovation, growth, and safety in manufacturing and service industries through education, promotion, and advancement of robotics, related automation technologies, and companies delivering integrated solutions. RIA represents over 500 robot manufacturers, system integrators, component suppliers, end users, consulting firms, research groups, and educational institutions. The association hosts a number of educational events including the International Robot Safety Conference (October 9-11, 2018 in Detroit), the Collaborative Robots, Advanced Vision & AI Conference (October 24-25, 2018 in Santa Clara, CA), the Robotic Grinding & Finishing Conference (November 28-29, 2018 in St. Paul, MN), the A3 Business Forum (January 14-16, 2019 in Orlando) and the biennial Automate Show & Conference (April 8-11, 2019 in Chicago). RIA also provides quarterly robotics statistics and has a content-rich website, Robotics Online. For more details on RIA, visit Robotics Online or call 734-994-6088.
For More Information:
Bob Doyle
Association for Advancing Automation
(734) 994-6088
Tim Smith
Element Public Relations
(415) 350-3019