Rexroth Launches New GoTo eBook Digital Catalog for Mobile Devices
For

engineers and OEM project managers on the go, Rexroth has developed a powerful new informational tool: The Rexroth GoTo eBook. Optimized for iPad, it combines all current GoTo Focused Delivery Program catalogs into an easy-to-use digital format, with added features such as embedded videos, helpful white papers and links to online Rexroth resources.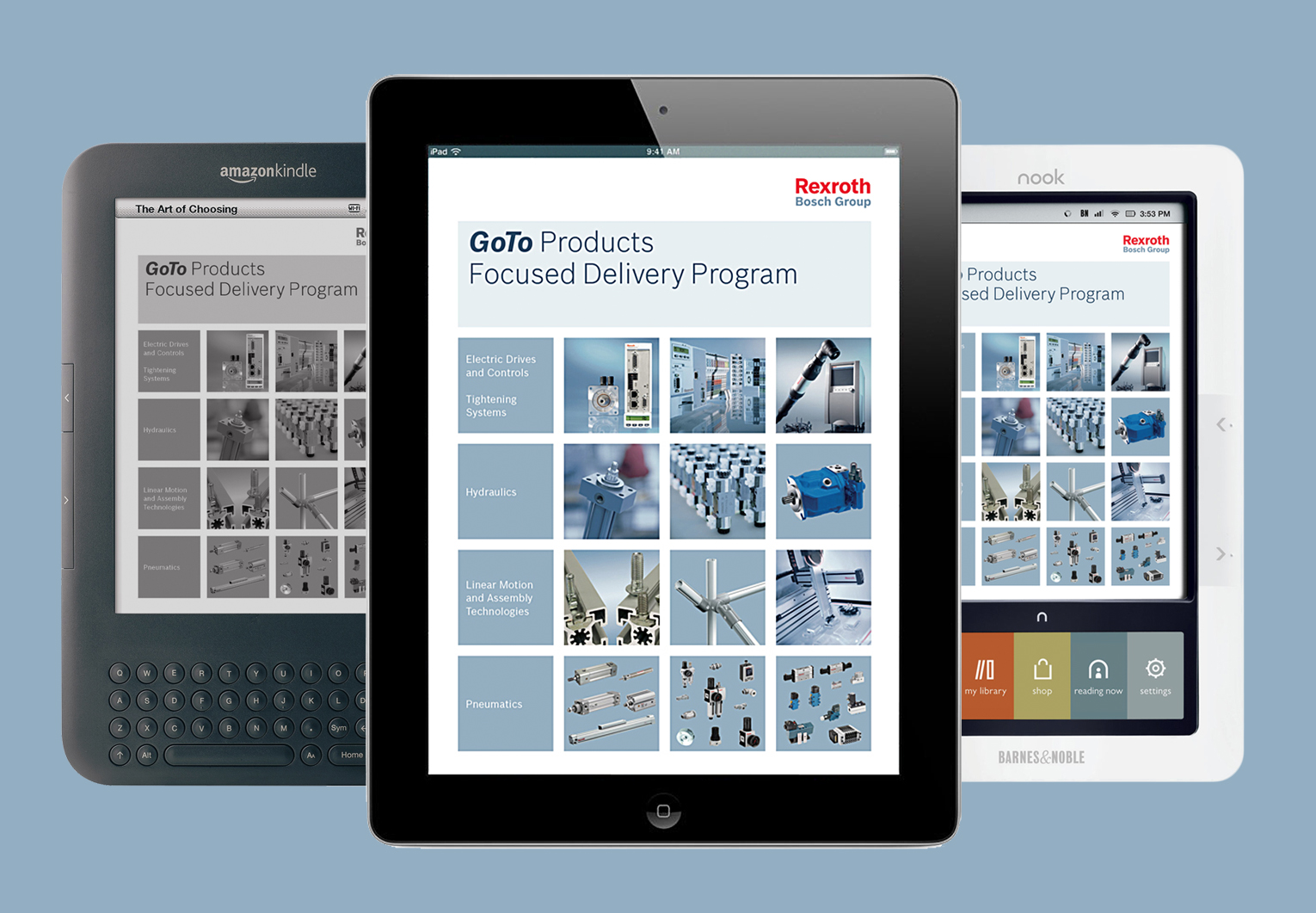 The new GoTo eBook makes it easier and more convenient for machine builders, system integrators and end-user manufacturers to use Rexroth's GoTo Focused Delivery Program to specify and obtain the high-performance, in-demand products offered through the program.

Rexroth's GoTo Focused Delivery Program provides industry-best delivery times for a broad range of Rexroth's most popular electric drives and controls, hydraulics, pneumatics, linear motion and aluminum structural framing products.

The GoTo eBook contains the same information as the print catalogs: all product descriptions, product photos, system specifications and other data needed to select and specify required products. What it adds is the convenience of a single, integrated digital resource that puts a wide range of Rexroth product information at users' fingertips – on the factory or shop floor, in working sessions with clients or project partners, or anywhere they choose to work.

The GoTo eBook has been optimized for use on the Apple iPad®, supporting multimedia features such as videos and touchscreen control. Additional, more basic versions are available for E-reader platforms like the Kindle™, Nook and other system, with functionality limited to the specific reader capabilities.

Rexroth designed the new GoTo eBook to make effective use of digital e-book features:

All individual GoTo catalogs can be accessed from the eBook Quick Links and Resources page
Individual product listings digitally link product pages with one click or finger tap – no more paging through multiple pages
Search functions let users enter product names or other terms to find products in any catalog
Product and part number tables are expandable so users can view specific product details
Prominently placed links connect users with Web access to product-specific GoTo program web pages for up-to-date information
In addition, the GoTo eBook has added informational resources: For iPad users there are multiple video segments that include system demos and operational training information. There are also links to informative Rexroth case studies and technical papers, to help engineers and systems designers make the most effective use of the Rexroth GoTo products they specify.

Downloading the new GoTo eBook is easy: a dedicated download page has downloading instructions and links for downloading versions compatible with the iPad, Kindle, Nook and other e-reader platforms. The download page is www.boschrexroth-us.com/gotoebook.

Bosch Rexroth AG is one of the world's leading specialists in the field of drive and control technologies. Under the Rexroth brand name, the company supplies more than 500,000 customers with tailored solutions for driving, controlling, and moving. Bosch Rexroth is a partner for Mobile Applications, Machinery Applications and Engineering, Factory Automation and Renewable Energies. The company provides customized solutions tailored to the needs and specifications of each individual market. As The Drive & Control Company, Bosch Rexroth develops, produces, and sells components and systems in over 80 countries. As part of the Bosch Group, Bosch Rexroth and its 34,900 associates generated approximately 5.1 billion euros in revenue ($6.8 billion) in 2010.

The Bosch Group is a leading global supplier of technology and services. In the areas of automotive and industrial technology, consumer goods, and building technology, some 285,000 associates generated sales of 47.3 billion euros ($62.7 billion) in fiscal 2010. The Bosch Group comprises Robert Bosch GmbH and its more than 350 subsidiaries and regional companies in over 60 countries. If its sales and service partners are included, then Bosch is represented in roughly 150 countries. This worldwide development, manufacturing, and sales network is the foundation for further growth. Bosch spent 3.8 billion euros (approximately $5 billion) for research and development in 2010, and applied for over 3,800 patents worldwide. With all its products and services, Bosch enhances the quality of life by providing solutions which are both innovative and beneficial.