Rexroth IndraControl VEP PC-Based HMIs with Embedded Windows CE 6.0 and WinXPe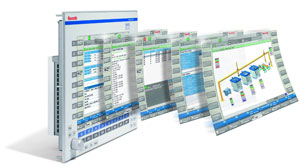 (Hoffman Estates, IL) – The Bosch Rexroth IndraControl VEPxx.4 series of PC-Based HMIs provides PC power and functionality with a newer embedded Windows CE 6.0 or WinXPe operating system and flash card technology, making it a more cost-effective and robust option compared to traditional operator panels utilizing full PC platforms.
The VEP series is part of Rexroth's innovative IndraControl V family of PC-Based HMIs, which uses cutting-edge flash card and PC processor technology, advanced operating systems and multiple operator platforms so equipment designers can choose the best configuration for each machine application and environment.
The IndraControl VEP is ideal for applications such as machine start-up, inputting values, jogging axes, recipe management and supervisory level HMI functions. It has a 600 MHz processor with 512 MB of RAM and 1 GB of memory to handle multiple software applications (PDF, Word, Excel, etc.). A 1 GHz processor is also available for even more performance.
Rexroth's IndraControl VEP is priced more moderately compared to a traditional PC and has lower memory requirements because of its Windows CE or WinXPe operating system. The VEPxx.4 also features an option utilizing the ATOM processor, leading to lower energy requirements. Applications can be created with WinStudio configuration software – the visualization module from the Rexroth IndraWorks software suite.
Firmware is also available to make the IndraControl VEP suitable to use with standard CNC and PLC HMI applications such as the Rexroth MTX Compact CNC system, or with Rexroth IndraLogic L20 / L40 PLCs and L45/L65 PACs.
The IndraControl VEPxx.4 hardware platform also has functionality beyond an HMI, with options available to make the VEP function as a soft PLC, MTX CNC or a motion logic controller with the ability to do high-precision multi-axis control. When functioning as a controller, the VEP has network options for Profibus, ProfiNet or SERCOS III. Versions of the IndraControl VEP with combined touch-and-button panels are available for operation on machine tools. Rexroth's proven HMI interfaces and fieldbus connections, which are also available based on Ethernet, ensure optimum adaptation to both the machine and the factory. In addition, the operator panel is virtually maintenance-free with its passive cooling system and non-rotating storage medium.
The IndraControl VEP is available in sizes raging from an 8.4-inch display to a 15-inch display. A USB port on the front offers extra functionality for a memory stick, keyboard or mouse, or even connectivity to other USB products such as printers.
For more information, visit http://www.boschrexroth-us.com/pchmi.
Bosch Rexroth AG is one of the world's leading specialists in the field of drive and control technologies. Under the brand name of Rexroth the company supplies more than 500,000 customers with tailored solutions for driving, controlling and moving machinery used in industrial and factory automation as well as in mobile applications. Bosch Rexroth is a partner for industrial applications, factory automation, mobile applications and renewable energy development. As The Drive & Control Company, Bosch Rexroth develops, produces and sells components and systems in more than 80 countries. In 2008 Bosch Rexroth AG, part of the Bosch Group, achieved sales of around $8.3 billion (5.9 billion Euro) with 35,300 employees. Visit www.boschrexroth-us.com for more information.