Remote Connectivity Among Features of Mitsubishi Electric Automation's Newest Widescreen HMI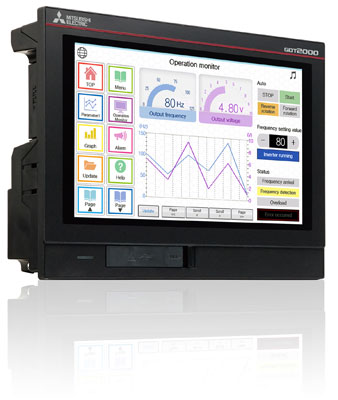 Mitsubishi Electric Automation's New GT25 Wide HMI Improves System Visibility, Increases Productivity
VERNON HILLS, Ill. – Demand for operational efficiencies such as greater visualization into a factory's automation solutions portfolio has prompted Mitsubishi Electric Automation, Inc. to introduce its latest human machine interface (HMI). The GT25 Wide HMI is an interface that monitors and controls machine components with a graphical touchscreen that connects to equipment such as PLCs, VFDs and servos. Information is displayed on high-resolution screens – 7-inch wide video graphics array (WVGA) or 10-inch wide extended graphics array (WXGA) – for clear image quality.
For optimum visibility and performance, the GT25 Wide HMI features remote connectivity through the GOT Mobile option. GOT Mobile provides remote access via web server functionality for production monitoring and system operation. It is designed to monitor controllers using web browsers on devices such as tablets, phones and personal computers, allowing machine operators, plant managers and maintenance personnel to monitor equipment status at any time from anywhere.
The GT25 Wide HMI is equipped with two Ethernet ports to physically separate the information system network in the office from the control system network at the production site, creating safer and more secure network architecture. This high performance HMI also features a built-in sound output interface, which provides audio feedback, notifications and verbal instructions to operators.
Ideal for advanced applications within the automotive, semiconductor, electronics, food and beverage, and pharmaceutical industries, the GT25 Wide HMI can be used in any application that requires local operation and monitoring of system components from a graphical interface. It fulfills virtually any need that requires a smart, web-based remote solution.
"Mitsubishi Electric continually invests in research and development to remain at the forefront of automation technologies to help our customers stay competitive," said Lee Cheung, product marketing engineer at Mitsubishi Electric Automation, Inc. "The greater amount of visual information afforded by the wide screen in the GT25 Wide is designed to result in higher productivity."
About Mitsubishi Electric Automation, Inc.
Headquartered in Vernon Hills, Ill., Mitsubishi Electric Automation, Inc., offers a wide range of factory automation products, solutions, training and support services for the industrial and commercial sectors. A U.S. affiliate company of Mitsubishi Electric Corporation, Mitsubishi Electric Automation represents more than 75 years' experience in the automation industry. A broad product portfolio includes programmable automation controllers (PAC), programmable logic controllers (PLC), human machine interfaces (HMI), variable frequency drives (VFD), servo amplifiers and motors, control software, computerized numerical controllers (CNC), motion controllers, robots and low-voltage power distribution products. The company takes its solutions on the road with the 53-foot long Solutions in Motion mobile showroom that appears at tradeshows, training seminars and other events across North America. Additional information about Mitsubishi Electric Automation is available at us.MitsubishiElectric.com/fa/en.
In addition to factory automation, Mitsubishi Electric US group companies' principal businesses include semiconductor devices, automotive electrical components, elevators and escalators, heating and cooling products, electric utility products, and large-scale video displays for stadiums and arenas. Mitsubishi Electric US group companies have roughly 31 locations throughout North America with approximately 4,000 employees.