Registration is Now Open for the 17th Annual Robotics Industry Forum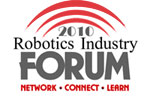 Registration is now open for the 17th annual Robotics Industry Forum in Orlando, January 20-22, 2010 at the Buena Vista Palace Hotel & Spa.

The Forum speaker lineup is shaping up to be extraordinary. Here are some of the highlights:
The Global Economic Outlook – Chris Thornberg, Beacon Economics, one of America's most insightful economists
Technology Integration of Man – Scott Klososky (one of America's most dynamic speakers and trend analysts)
Business Applications of Social Networking (Facebook, Twitter, LinkedIn, etc.) – James Spellos, Meeting U (a leader in helping companies profit from these new innovations)
A New Robotics Roadmap for the United States – Henrik Christensen, Georgia Tech (Henrik led the team that wrote the roadmap!)
New Opportunities for Automation in Renewable & Alternative Energy Industries – Mark Senti, Advanced Magnet Lab (a robotics industry veteran who is on the leading edge of this new growth market)
Robotics Statistics & Trends – Paul Kellett, RIA (a great resource for the latest market data)
Plus, the networking opportunities will be better than ever, since for the first time the Forum is co-located with the Automated Imaging Association Business Conference and the Motion Control Association Business Conference. We're expecting some 250 industry leaders from the robotics, machine vision, and motion control industries to attend.

Discount rates are in effect through October 1, 2009, and additional discounts are offered for companies sending more than one person. Remember, you have to be an RIA member in good standing to attend. The networking opportunities that develop through the Connectioneering Tabletops and other group functions at the Forum are unparalleled and will help your business get off to a great start in 2010!

Founded in1974, RIA represents more than 250 North American companies including leading robot manufacturers, component suppliers, system integrators, end users, research groups and consulting firms. RIA's quarterly statistics report is based on data supplied by member companies representing an estimated 90% of the North American market.
For more information about RIA and the robotics industry, visit www.robotics.org or contact RIA Headquarters at 734/994-6088.