Redesigned Contact-free IPRM 12 Inductive Sensor with 4 Nanometer Resolution
Contact-free Alternative to Complex Measuring Systems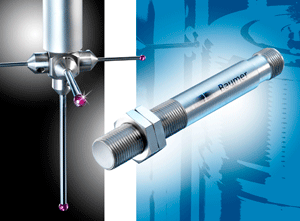 Baumer has redesigned its contact-free IPRM 12 inductive sensor to offer a significantly improved measuring resolution of up to 4 nm. This unmatched resolution makes the sensor an excellent solution for monitoring concentricity and vibration of shafts, and for highly precise measurement of manufacturing tolerances and deflections in shafts, leaf springs and levers.
The IPRM 12 is one of the fastest sensors in its class with a measuring speed of 1 mm/s. The high performance sensor is a compelling, contact-free alternative to complex measuring systems and will not leave scratches or pressure points on delicate finished products. The sensor's high linearity and temperature stability allow extremely precise measurement, while the robust metal housing and protection class IP67 provide excellent durability.
Since all of the sensor's electronics are integrated in its 90 mm short M12 housing, the IPRM 12 is easier and less costly to integrate into compact machines than measuring systems with external evaluation units. To meet the needs of various measuring tasks, Baumer offers three differently optimized IPRM 12 sensor versions: a high resolution and high linearity sensor; a high resolution, long-range sensor; and a sensor with an extended measuring range upon a minor temperature drift.
The Baumer Group is a leading international manufacturer of sensors and system solutions for factory and process automation. In 2011, the innovative family-owned company employed about 2,500 people worldwide in 36 locations and 18 countries. The long lasting success is built on high customer focus as well as the innovative and diversified product range of the product segments Sensor Solutions, Motion Control, Vision Technologies, Process Instrumentation, and Gluing Systems.