Recognition of Flux on Solar Cells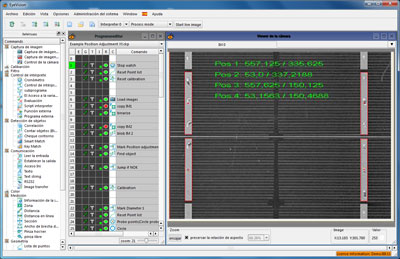 A reliable application of connecting components such as e.g. flux, soldering paste or conductive adhesive is the alpha and omega of the solar cell production.
Because the application of flux on the busbar of solar cells is important for the support of an ideal contacting and the appearance of the joint.
Due to a limited application of flux various consecutive faults can arise. As the requirement for an accurate solder connection is an even application onto the surface with flux.
EVT has therefore developed a program, which checks the application of flux. First, is is a system to check the presence of flux on the conduction bands. This means that during the assembly of solar cells, the software checks if flux has been applied or not. Second, also the admission of the flux directly before the soldering will be controlled, which is especially important with mixed printed board assemblies. Therefore the EyeVision software program controls that only those surfaces are wetted with flux, which are soldered in the directly following step.
The control of flux is a material- and time-saving solution to recognize if the flux application was accurate.
Also the developed EyeVision inspection system is not only to optimize the connection of solar cells respectively the construction of solar strings. The EyeVision based system is also the base for a solution concerning the development of quality inspection.
The EyeVision software is also quite easy to handle. The programming is done in the graphical user interface with the drag-and-drop function. This also means that for creating an inspection program no special programming skills are required. The commands are ready-made and the user has only to drag an icon from the Toolbox into the Programmeditor.
But if still some questions occur the EyeVision manual, the context help in the software or our support team, surely has an answer.
Company Contact
Klara Steinschneider
Tel: +49721 668 004 23(0)