Ready to Face the Future: Numerous Extensions for VeriSens Vision Sensors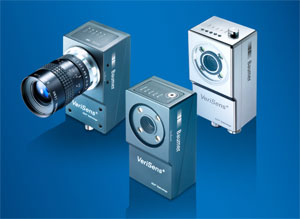 Baumer VeriSens vision sensors include the latest 2.6 update of the VeriSens Application Suite. This software update comprises many function extensions to meet present customer needs on extended function range and future readiness. Examples include the new innovative image tool "edge characteristics", the integration of the new color models with additional text and code reading functionality and Windows 10 support. A software update will suffice for a cross-series upgrade with the particular functionality in presently deployed VeriSens vision sensors. Thanks to the new universal image tool "edge characteristics", numerous inspection tasks can be mastered by a single intelligent feature check. The comprehensive and cross-industry application potential ranges from dimensional tracking of welding seams to quality checks in packaging to monitoring drive shafts for presence of notches.
Also immediately available are new vision sensor models in the XC-series with intelligent Color FEX 3D assistant for color inspection, now including an additional ID function to cost-efficiently combine color inspection, code reading (1D, 2D codes) as well as reading and evaluation of plain text (OCR/OCV). Thanks to specialized algorithms using color detection to enhance contrast, codes on colored packaging or even codes printed in color are reliably identified.
Also, this latest software update now supports Windows 10 for the first time. This means high-level investment protection to the user, both for existing and future image processing applications using VeriSens.
Following one of the key principles of VeriSens vision sensors, the development focus for the latest Application Suite software update was on ease of use so that even complex inspection tasks can be set up within a few minutes. Configuration is done in only four intuitive steps. The vision sensor performs up to 32 simultaneous feature checks while stable image evaluation is ensured by the patented Baumer FEX image processor. Thanks to the configurable web interface, necessary parameter adaptation can be made straight in the browser of the existing machine control system.
About Baumer Group
The Baumer Group is one of the worldwide leading manufacturers of sensors, encoders, measuring instruments and components for automated image-processing. Baumer combines innovative technologies and customer-oriented service into intelligent solutions for factory and process automation and offers an unrivalled wide technology and product portfolio. With around 2,300 employees and 38 subsidiaries in 19 countries, the family-owned group of companies is always close to the customer. Baumer provides clients in most diverse industries with vital benefits and measurable added value by worldwide consistent high quality standards and outstanding innovative potential.
Company Contact
Nicole Marofsky - Marketing Communication
Tel: +49 (0)3528 43 86 19