Radix Successful in Bid for Investor on The Big Decision
(Wi

ndsor, ON) - Local technology leaders, Radix Controls, were successful in their pitch to "Dragon's Den" investor Jim Treliving this week on CBC Television's business reality show "The Big Decision" .

J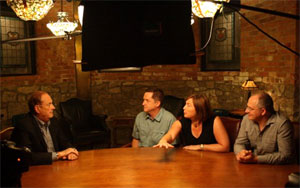 im Treliving selected Radix for an investment of $2.5million, which will be used to support a transformation in this innovative company from a successful provider of custom solutions to manufacturers in North America to a global product development company.

Viewership for this episode exceeded expectations as episode three featuring Radix went head to head with US election coverage on November 6th. Radix was one of two companies featured in episode three of the new season of The Big Decision. This episode can be viewed on CBC's web site.

Founded in 1994, Windsor, Ontario based Radix specializes in advanced technology solutions for manufacturing. In 2007, Radix was recognized by PROFIT magazine's annual ranking of Canada's Fastest-Growing Companies.

The Big Decision, CBC's business reality show featuring Jim Treliving and Arlene Dickinson, is in its second season. The two investors are on a mission to spend their time and money to turn around struggling Canadian companies. If the companies can rise to the challenge of changing their ways, they could be given a life-changing investment. No hand outs. No charity. The stakes are high. This is The Big Decision.