Radix Inc. releases vision application for machined part quality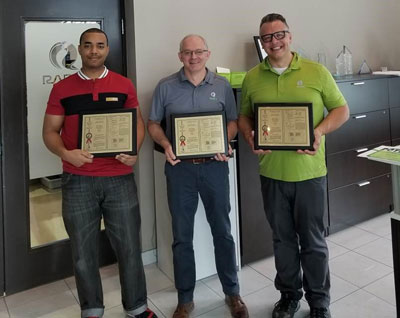 Radix Inc. is pleased to announce that they have released a vision application designed specifically to detect small metal fragments remaining inside the complex surface channels on machined parts. They have also been granted a patent on this innovative application from the US Patent & Trademark Office.
This infrared vision application detects metal chips as small as 2.5 mm inside the surface channels of complex machined parts, like a valve body. With real-time feedback to the operator, this stand-alone application ensures quality machined parts are leaving the factory floor free of metal fragments.
"Radix is well known for our commitment to the innovative application of technology to intelligent manufacturing," says Ross Rawlings, President. "This is one more example of this commitment to innovation."
Headquartered in Windsor, Ontario, Radix Inc. designs and delivers award winning intelligent manufacturing technology solutions for major North American automotive manufacturers, as well as pharmaceutical, food/beverage, and aerospace manufacturers. Radix offers vision systems, robotics, automation and software with locations in Windsor and Mississauga, Ontario, Trenton, Michigan and Montreal, Quebec. Radix's parent company is Active Industrial Solutions (AIS), a global industrial solutions provider for mold making, reflex inserts, automation, gauges & fixtures & custom machining.
Watch the "Chip Detection" application here: https://www.youtube.com/edit?o=U&video_id=odSiPTiN3_M and come speak to our technology experts at IMTS in booth 134554 in the East Building.