RadientPro CL Vision Processor
Camera Link frame grabber with FPGA-based image processing capabilities and Matrox FPGA Development Kit provide efficient solution for demanding machine vision applications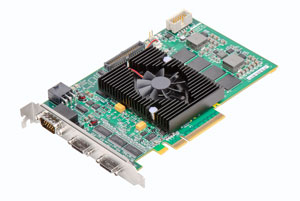 MONTREAL - Matrox Imaging today announced the Matrox RadientPro CL vision processor and the associated Matrox FPGA Development Kit (FDK) that let developers of machine vision applications harness the high-speed image acquisition power of Camera Link® cameras along with the high-performance image processing capabilities of an Altera® Stratix® V FPGA.
Matrox RadientPro CL is a half-length PCIe® 2.0 x8 frame grabber card that acquires from all Camera Link 2.0 sources including the Full/80-bit configurations at up to 85 MHz. It hosts an Altera Stratix V FPGA that can be efficiently configured using the new Matrox FDK.
Matrox FDK provides a component library and tools to facilitate the development of custom FPGA configurations for the Matrox RadientPro family of vision processor boards. Matrox FDK is used in combination with Impulse CoDeveloper™ and Altera Quartus® II to create FPGA configurations that offload and even accelerate image processing functions from the vision processor board's host system.
"Electronics manufacturing and inspection, semiconductor wafer manufacturing and medical imaging are just a few examples of applications that generate volumes of data that imaging systems must process," said Michael Chee, product manager, Matrox Imaging. "Pre-processing tasks such as filtering, geometric transformations, flat field correction and dead pixel replacement must often be performed prior to the actual image analysis. These operations, especially large filters, can impose a significant load on even the most capable CPUs. Matrox RadientPro CL's on-board FPGA processing capabilities provide the perfect way to free up the CPU for other tasks."

Matrox RadientPro CL and Matrox FDK will be available in Q4 2014. Matrox RadientPro CL will be fully supported by Matrox Imaging Library (MIL) release 10 on 64-bit Windows® 7/8.
About Matrox Imaging
Established in 1976, Matrox Imaging is a leading developer of component-level solutions for machine vision, image analysis and medical imaging. Products include frame grabbers, vision processors, imaging computers, smart cameras and application development software. Headquartered in Montreal, Quebec, Canada, Matrox is a privately held company with offices in the United Kingdom, Ireland, Germany and Hong Kong.