R.P. Gatta, Inc. Introduces the Series 4000i, an error proof marking system using an ABB IRB 4600 robot
The first marking system using a 6-axis industrial robot offers greater flexibility than standard, fixed tool systems. Offered in three variations.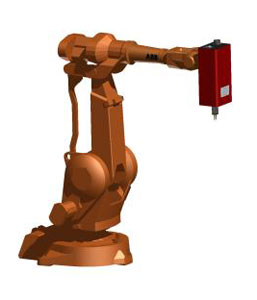 AUBURN HILLS, Mich. – R.P. Gatta, Inc., an assembly line equipment manufacturer based in Aurora, Ohio, has developed an error proof marking system using an ABB IRB 4600 robot. The new Series 4000i, the first known marking system that incorporates an articulated arm, 6-axis industrial robot, offers far greater flexibility than typical marking systems that use hard application specific fixed tooling. R.P. Gatta offers pin stamp, scribe and laser marking variations within the 4000i series. All variations provide the unique flexibility that each successive mark could be of a different number sequence on parts that vary greatly in size, shape and geometry. Marking systems are often used to put serial numbers, dates, bar codes and other marks on major components in plants manufacturing automobiles, engines, transmissions and other heavy equipment.
The virtually unlimited agility of the IRB 4600 robot provides the ability to put a mark on a different place on each part, no matter the part's geometry and orientation. The primary source of the system's flexibility and error proofing functionality is the communication between the plant computer and the 4000i computer. The plant computer identifies the next part in line and automatically changes the part number lot and sequence number in the 4000i computer and error proof marking device. The plant computer initiates the appropriate marking sequence and the 4000i computer delivers a real time (error proof) report. If a marking error occurs, the system immediately alerts the plant computer.
"This is not the first error proof marking system we have developed," said Raymond Gatta, president and founder of R.P. Gatta. "But this is the first system that incorporates the greatly increased flexibility that manufacturers are now requiring to facilitate smaller and more diverse production runs."
More detail on the three marking variations within the 4000i series:
Pin Stamp Marking: creates a mark with each character comprised of a series of dot peens, often used on solid metal parts of a complex geometry. The part typically does not need to be clamped, and the system is simple, reliable and relatively inexpensive.
Scribe marking: creates a mark in which each character is a continuous etch, offering lower noise operation than a pin stamp system especially on sheet metal type parts. The part typically needs to be clamped, with the force taken on by the clamp and scribe assembly, not the robot.
Laser marking: creates very high quality marks that are often logos or more intricate graphic designs. The most complex and expensive of the three systems.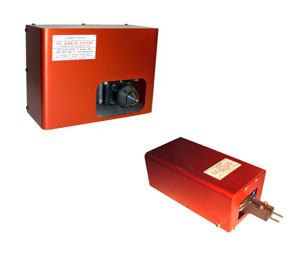 The error proof system of both the pin stamp and scribe variations runs a small electrical current through the pin or scribe implement, looking for continuity on every dot or scribe character. The current continuity is read by the computer with any inconsistency immediately logged, and if desired, an immediate notice is sent to the operations supervisor. Both the pin stamp and scribe systems utilize a patented error proof technology. In the laser system a camera mounted on the robot arm verifies the integrity of the finished mark. The failure criteria in all systems can be configured differently for each application.
The IRB 4600 robot used in the system is one of ABB's newest models, the fastest, most accurate, low-weight, medium-size robot ever developed for general industrial applications. It features twice the working range, half the weight and a 25% better cycle time than comparable competitive models and the renowned ABB IRB 4400 model that it succeeds.

"We are very pleased to be in partnership with R.P. Gatta on this truly unique and superior marking system," said Joe Campbell, vice president of sales and marketing, ABB Robotics, North America. "It is reflective of the design innovation that is placing industrial robots at the heart of an ever increasing range of manufacturing and non-manufacturing applications."
About RP Gatta, Inc.
R.P. Gatta has been a system integrator since 1985 and designs and manufactures fastening, line tracking assembly and marking systems for a wide range of assembly and industrial applications. They are UL approved panel builders, and all machine electrical control cabinets are built, wired and tested in house to customer specifications. R.P. Gatta has approximately 50 employees and holds patents on various line tracking and marking equipment systems. R. P. Gatta, Inc. is ISO 9001:2000/T.E. and ISO 14001:2004 Registered, and has been awarded Q1 by Ford Motor Company. They have been an ABB Robotics System Integrator for two years.
About ABB, Inc.
ABB is a leader in power and automation technologies that enable utility and industry customers to improve their performance while lowering environmental impact. The ABB Group of companies operates in around 100 countries and employs about 117,000 people.
About ABB Robotics
ABB Robotics is a leading supplier of industrial robots – also providing robot software, peripheral equipment, modular manufacturing cells and service for tasks such as welding, handling, assembly, painting and finishing, picking, packing, palletizing and machine tending. Key markets include automotive, plastics, metal fabrication, foundry, electronics, pharmaceutical and food and beverage industries. A strong customer focus helps manufacturers improve productivity, product quality and worker safety. ABB has installed more than 160,000 robots worldwide.