QuickSilver Controls Compact and Quiet Motor Controller Stacking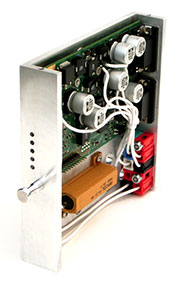 The QCI-S2-IGH and QCI-S3-IGH are designed to blind plug into the QCI-BO-BP8 backplane to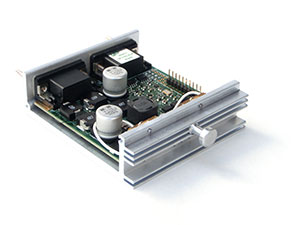 provide dense packing of controllers with a 1 inch spacing density.
The backplane brings out signals to support:
Hybrid Servo Motors
Step Motors
3 phase servo motors with hall and encoder
Mosolver™ (QuickSilver Controls: Motor plus Resolver combination)
DC brush servo motors
Single ended or differential encoders
A homing sensor
Motor memory interface for identification and temperature measurements
CAN and RS-485 signals are bussed across the backplane to support serial communications, DMX-512, and CANopen communications. Each slot includes its own fuse for the QCI-S2-IGH controllers. A fused Fan connection is also provided. The S3 controllers have built in connectors to accept fused power and motor connections.
Each slot is provided with its own backplane slot memory. This is designed to allow the controllers to be identically programmed with the serial and CAN identifiers, homing, operational, and tuning stored to the slot memory, providing for easy controller replacement in the field.
The QCI-S2-IGH and QCI-S3-IGH provide quiet and smooth motion operations – eliminating the squeal and sizzle noises common to most servo controllers for virtually silent operation.
The QCI-BO-BP8 has been designed to hold 8 boards. QuickSilver Controls is ready to make a custom backplane for your needs!