QComp Technologies, Inc. Provides New Product Offerings within the Packaging Industry
Newly Designed Solo Case Packer Provides Customers with State-of-the-Art Robotic Solutions within the Packaging Industry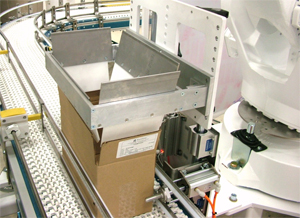 QComp Technologies, Inc., a leading robotics integrator, announced the newest upgrade to their product line, a newly improved Solo Case Packer. QComp's original Robotic Solo Case Packer was created to save space and pack individual products into shipping containers with up to 30 layer picks per minute. Using two conveyers, one with product and another lined with packing cases, QComp has created a complete system focused on ease of use and efficiency. While flexibility and adaptation has always been a main focus for the organization, Robotic Engineers at QComp have continued to increase the robot's ability to adapt with this new design.

"We wanted to make operator adjustments simpler and our flap containment device more robust," stated Greg Wheeler, application engineer at QComp. "This robust flap containment device ensures a smooth and efficient process by preventing the outer flaps of the case from interfering with the packaging process while the single point guide rail adjustment makes changeovers a simple turn."

The new Solo Case Packer design implements quick changeover features for each variable within the system. The simple changeover system focuses on using automated or quick change parts to reduce manual efforts required for operators to make adjustments for different size products. Even the end-of-arm tooling is designed for quick effortless alterations.

Founded in 1990, QComp Technologies, Inc. is a robotics integrator, providing automation solutions for a variety of industries. The company designs and builds automated robotic manufacturing cells and materials handling systems, as well as engineers and manufactures drive systems for paper, metal and converting industries. With headquarters in Greenville Wisconsin QComp has sales and service offices in Wausau and Milwaukee, WI.