QComp Technologies, Inc. Introduces New Robotic Glass Handling Conveyors to Product Line
New Conveyors' Modular Design Delivers Precise Handling with Flexiblity to fit any Glass Handling Requirements

GREENVILLE, Wisconsin. - QComp Technologies, Inc., has introduced 5 new conveyors designed specifically to meet any glass handling applications. The complete line of conveyors include straight, pop up transfer, cantilevered finger, tilt top and skewed roller conveyors.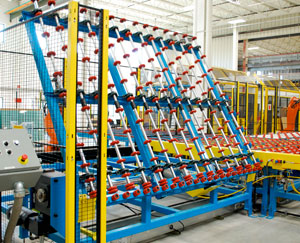 "Glass manufacturers due to the delicate nature of their product require extremely precise, secure and careful transport of the glass throughout the production line," said Tom Doyle, president of QComp Technologies, Inc. "Our complete line of glass handling conveyors includes integrated controls for precise handling and minimizing gaps between lites to maximize square footage through coating, laminating and tempering machines."

QComp Technologies' conveyor line includes:
Straight conveyor
- For precise and non-marking transportation of flat glass
Pop up transfer conveyor
- For 90 degree transfer from one straight section to another
Cantilevered finger conveyor
- Allows for bottom side glass placement with integrated robot tool
Tilt top conveyor
- Allows for easier manual load or unload of conveyor
Skewed roller with side-guide conveyor
- Moves glass to one side of conveyor and justifies it for next process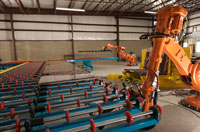 Founded in 1990, QComp Technologies, Inc. is a robotics integrator, providing automation solutions for a variety of industries. The company designs and builds automated robotic manufacturing cells and materials handling systems, as well as engineers and manufactures drive systems for paper, metal and converting industries. With headquarters in Greenville Wisconsin QComp has sales and service offices in Wausau and Milwaukee, WI. More information can be found on the company's website at www.qcomptech.com.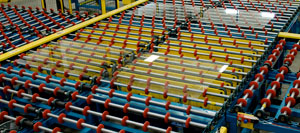 QComp and the QComp logo are trademarks of QComp Technologies, Inc. All trade names are either trademarks or registered trademarks of their respective holders.