Qcomp Technologies, Inc. Compact Lean Palletizer to be Showcased at ABB Robotics' North America Technology Days
v style="margin: 0in 0in 0pt">

Compact Palletizer Allows Palletizing at Point of Production Eliminating Long Costly Conveyor Runs


GREENVILLE, Wisconsin.- QComp Technologies, Inc., today announced that its Compact Lean Palletizer (CLP) will be showcased at ABB Robotics' North American Technology Days being held April 22 & 23, 2009 at the ABB Robotics US headquarters in Auburn Hills, MI. By virtue of its small footprint the CLP system allows customers to palletize at the user's point of production eliminating long costly conveyor runs to centralized palletizing areas.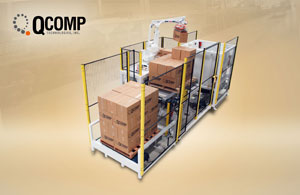 "Efficient use of production floor space, rapid return on investment and uninterrupted production is critical to all manufacturers striving to remain competitive," said Tom Doyle, president of QComp Technologies, Inc. "The CLP system's small footprint allows manufacturers to maximize production floor efficiency and it is pre-engineered and pre-assembled reducing costs for maximum return on investment and allowing minimal production interruption on installation."
The frame mounted and pre-assembled palletizer can be installed in a day and features the extremely reliable and robust ABB IRB 260 robot with packing rates of up to 15 cases per minute. The system is available in multiple pallet patterns, can use manual forklifts or AGV's and features instantaneous tool changing.
ABB Robotics North America Technology Days runs April 22nd & 23rd. The event includes a tour of ABB's facility, robotic demonstrations, seminars and industry networking. Register for ABB Technology days at
www.abb.com/robotics
.
Founded in 1990, QComp Technologies, Inc. is a robotics integrator, providing automation solutions for a variety of industries. The company designs and builds automated robotic manufacturing cells and materials handling systems, as well as engineers and manufactures drive systems for paper, metal and converting industries. With headquarters in Greenville Wisconsin QComp has sales and service offices in Wausau and Milwaukee, WI. More information can be found on the company's website at
www.qcomptech.com
.
QComp and the QComp logo are trademarks of QComp Technologies, Inc. All trade names are either trademarks or registered trademarks of their respective holders.