QComp Technologies, Inc. Announces New Automated High Speed Packaging Cell
rong>Duet Packer Cell Featuring 150 Picks Per Minute Provides Pre-Engineered Packaging Solution to Increase Bottom Line and Reduce Production Costs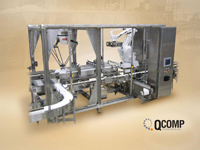 GREENVILLE, Wisconsin- October 21, 2009, QComp Technologies, Inc., a leading robotics integrator, today announced its new Duet Packer Cell for packaging individual products. Featuring two technologically advanced robots the new system can pack products into shipping cases or containers at a rate of 150 picks per minute. The pre-engineered system was designed to provide manufacturers with an extremely reliable turnkey solution to increase the customer's bottom line and reduce production costs. The Duet Packer Cell is a robust and reliable packing method that provides the flexibility manufacturers need to accommodate last minute product changes or complete redeployment for new products.

"By utilizing the two robots the cell's first robot can provide varied product arrangements to be presented to the second robot which can then pick and pack different configurations," said Tom Doyle, president of QComp Technologies, Inc. "This arrangement along with the cell's space saving and pre-engineered features make this the most flexible, economical and high speed packing solution available."

The Qcomp Duet Packer Cell is pre-engineered allowing for an easy install and start up and meets the stringent RIA and ANSI standards. The unit can pack up to 150 picks per minute and can pick up to 45 lbs per pick. The unit features one 4 axis robot and one 6 axis robot, integrated feed conveyors, Rockwell Micrologix PLC and a Panelview Plus 600 HMI interface.

Founded in 1990, QComp Technologies, Inc. is a robotics integrator, providing automation solutions for a variety of industries. The company designs and builds automated robotic manufacturing cells and material handling systems, as well as engineers and manufactures drive systems for paper, metal and converting industries. With headquarters in Greenville Wisconsin QComp has sales and service offices in Wausau and Milwaukee, WI. More information can be found on the company's website at www.qcomptech.com.

QComp and the QComp logo are trademarks of QComp Technologies, Inc. All trade names are either trademarks or registered trademarks of their respective holders.