PXIe-9848H 8-CH 14-bit 100 MS/s High Speed PXI Express Digitizer
Supporting the industry's widest input range at ±100V, the PXIe-9848H is ideal for high voltage measurement applications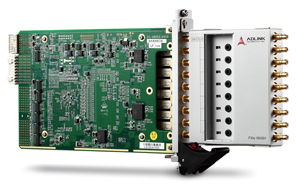 ADLINK Technology, Inc., a leading global provider of cloud-based services, intelligent gateways, and embedded building blocks for edge devices that enable the Internet of Things (IoT), today announced the release of its new PXIe-9848H 8-CH 14-bit 100 MS/s high speed PXI Express digitizer. The PXIe-9848H features a x15/x50 signal conditioning module providing both a high input voltage range of ±100V and high dynamic performance to deliver the optimum solution for measurement range expansion in a PXI system. The PXIe-9848H is ideal for a wide array of applications in automotive control, power supply testing and scientific research industries.

"In conventional high voltage measurement, users have been required to develop their own attenuators or devote extra expense to additional instrumentation amplification, which in turn occupied another peripheral slot," said Catherine Wu, senior product director of ADLINK's Measurement and Automation Product Segment. "ADLINK's PXIe-9848H's highly integrated mechanical design takes up only a single slot, representing an optimized solution and saving time and costs for system development. "

The PXIe-9848H's signal conditioning module provides 8 simultaneous analog inputs and 15:1 or 50:1 attenuation ratio, implemented with solid product design and strict verification testing to ensure maximum performance, thereby enabling the high dynamic performance of 63.5 dB SFDR and 55.5 dB SINAD while supporting high input voltage range of ±100V. In addition, the PXIe-9848H provides software selectable input impedance, over-voltage protection and AC/DC coupling to maximize convenience.

In addition, the PXIe-9848H's 8-channel design and the variety of implementations, including PXI Trigger and built-in phase-locked loop (PLL), enable precise, simultaneous, multi-channel sampling. Synching with other analog and digital instruments to increase channel-count or mixed-signal test systems is simple and convenient.

The PXIe-9848H supports Windows 8/7/XP and is fully compatible with third-party software such as LabVIEW™, MATLAB® and Visual Studio.NET®. ADLINK further provides measurement APIs to simplify programming of rise time, overshoot, turn-on delay and many other functions.

For more information on ADLINK's PXI Express products and platforms visit http://www.adlinktech.com/PXI/.
About ADLINK
ADLINK Technology is enabling the Internet of Things (IoT) with innovative embedded computing solutions for edge devices, intelligent gateways and cloud services. ADLINK's products are application-ready for industrial automation, communications, medical, defense, transportation, and infotainment industries. Our product range includes motherboards, blades, chassis, modules, and systems based on industry standard form factors, as well as an extensive line of test & measurement products and smart touch computers, displays and handhelds that support the global transition to always connected systems. Many products are Extreme Rugged™, supporting extended temperature ranges, shock and vibration.

ADLINK is a Premier Member of the Intel® Internet of Things Solutions Alliance and is active in several standards organizations, including PCI Industrial Computer Manufacturers Group (PICMG), PXI Systems Alliance (PXISA), and Standardization Group for Embedded Technologies (SGeT).

ADLINK is a global company with headquarters in Taiwan and manufacturing in Taiwan and China; R&D and integration in Taiwan, China, the US, and Germany; and an extensive network of worldwide sales and support offices. ADLINK is ISO-9001, ISO-14001, ISO-13485 and TL9000 certified and is publicly traded on the TAIEX Taiwan Stock Exchange (stock code: 6166).

Embedded Vision
This content is part of the Embedded Vision curated collection. To learn more about Embedded Vision,
click here
.