PXI Express Remote Controller With PCI Express Gen 2 x8 Link
rong>Link supports fully transparent, high bandwidth up to 4 GB/s, for efficient, flexible remote PXI Express control through existing host PC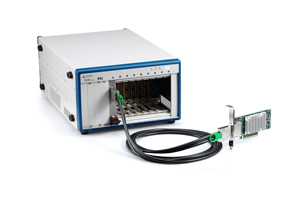 ADLINK Technology, Inc., a leading global provider of cloud-based services, intelligent gateways, and embedded building blocks for edge devices that enable the Internet of Things (IoT), today announced the release of its new PCIe-PXIe-8638 high performance PXI Express remote controller, enabling remote control of any PXI Express system directly via PC. Fully software- and driver-transparent bandwidth up to 4 GB/s is available through PCIe Gen 2 x8 link capability. With the PCIe-PXIe-8638, processor performance is maximized for industrial PC, server, or workstation, delivering dependable remote control of the PXI/PXIe system, maximum flexibility and reduced hybrid test application costs.

"In complicated hybrid test systems, a high performance server or workstation is conventionally deployed as the host PC to control all test equipment simultaneously," said Catherine Wu, Senior Director of ADLINK's Measurement and Automation Product Segment. "PXI systems have often been used in hybrid systems for data acquisition. The new release of ADLINK's PCIe-PXIe-8638 means efficient remote control of PXI Express systems is available through an existing host PC, with no extra expense required for additional embedded control. This represents an optimized solution, dramatically reducing time and cost for system development."

The ADLINK PCIe-PXIe-8638 includes a PCIe-8638 module for installation in a PC, connected via a PCIe x8 shielded twisted pair copper cable and rugged latching connectors to a PXIe-8638 module in slot 1 of a PXIe chassis. Sustained throughput of 4 GB/s is enabled in each direction, with transmission extending to 5m with no decrease in signal rate. Users benefit from the flexibility of remote control, avoiding test system exposure to harsh or hazardous environments. In addition, LED indicators on the PXIe-8638 front panel deliver link status information for the PCI Express lanes on the module to the backplane, maximizing convenience of system setup.

To learn more about our PXI/PXIe-based solutions for high-bandwidth applications, visit ADLINK's booth #627 this week at AUTOTEST 2014 in St. Louis, MO, or go to our website at http://www.adlinktech.com/PXI/index.php.

For more information on AUTOTEST 2014, visit http://ieee-autotest.com/.

About ADLINK
ADLINK Technology is enabling the Internet of Things (IoT) with innovative embedded computing solutions for edge devices, intelligent gateways and cloud services. ADLINK's products are application-ready for industrial automation, communications, medical, defense, transportation, and infotainment industries. Our product range includes motherboards, blades, chassis, modules, and systems based on industry standard form factors, as well as an extensive line of test & measurement products and smart touch computers, displays and handhelds that support the global transition to always connected systems. Many products are Extreme Rugged™, supporting extended temperature ranges, shock and vibration.

ADLINK is a Premier Member of the Intel® Internet of Things Solutions Alliance and is active in several standards organizations, including PCI Industrial Computer Manufacturers Group (PICMG), PXI Systems Alliance (PXISA), and Standardization Group for Embedded Technologies (SGeT).

ADLINK is a global company with headquarters in Taiwan and manufacturing in Taiwan and China; R&D and integration in Taiwan, China, the US, and Germany; and an extensive network of worldwide sales and support offices. ADLINK is ISO-9001, ISO-14001, ISO-13485 and TL9000 certified and is publicly traded on the TAIEX Taiwan Stock Exchange (stock code: 6166).