PXI-3980 Quad-core PXI Embedded Controller
PXI-3980 dual BIOS backup reduces maintenance costs, optimizing solutions for multitasking test and measurement applications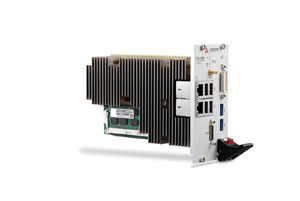 ADLINK Technology, a leading global provider of trusted testing and measurement products, today announced the introduction of its PXI-3980, ADLINK's first quad-core PXI embedded controller featuring the high-performance Intel® Core™ i7-2715QE 2.1 GHz processor, with up to 16 GB of 1333 MHz DDR3 memory, for seamless execution in multitasking environments and reduced test times. The PXI-3980 features dual BIOS backup to reduce maintenance costs, multiple interfaces for connecting and controlling a wide variety of standalone instruments, user-friendly access design for easy maintenance, and support for hybrid PXI-based testing system control.
The ADLINK PXI-3980's innovative structure delivers high availability in reliable testing systems, including the adoption of dual BIOS backup, which allows—in the event of a main BIOS crash—the secondary BIOS to boot the system and recover the main BIOS, reducing maintenance costs and efforts. Easy maintenance makes battery, storage device, and SODIMM modules swap-out easier than ever. In addition, solid metal case elements protect electrical components and enhance electromagnetic compatibility.
In addition to optimum processing performance, the ADLINK PXI-3980 provides multiple interface choices for connecting and controlling a wide variety of standalone instruments, including two display ports supports for VGA + DVI, dual GbE ports, GBIP, and trigger I/O for advanced PXI trigger functions. The PXI-3980 also includes four USB 2.0 ports and dual hi-speed USB 3.0 ports for connection to storage, easily accessing data from system controllers with limited built-in data storage size and securing data with no storage damage issues. ADLINK provides the option of either a pre-installed HDD or Intel® 520 Series SSD for unequaled performance and reliability.
"Implementation of modular instrumentation in high-performance automated test equipment (ATE) is a growing industry trend when complex testing tasks are to be administrated," said Catherine Wu, Director of ADLINK's Measurement and Automation Product Segment. "ADLINK's PXI-3980, featuring enhanced quad core CPU performance, specifically supports applications requiring intensive data analysis or processing."
The PXI-3980 supports Windows 7 32/64-bit, and Windows XP 32-bit operating systems. The PXI-3980 controller, combined with the ADLINK 3U 19-slot PXI-2719A chassis, is a winning combination for a wide variety of testing and measurement applications, such as wireless and RF testing. For more information, visit www.adlinktech.com.
About ADLINK Technology
ADLINK Technology provides a wide range of embedded computing products and services to the test & measurement, automation & process control, communications, medical, defense, and transportation industries. ADLINK products include PCI Express-based data acquisition and I/O; vision and motion control; and AdvancedTCA, CompactPCI, and computer-on-modules (COMs) for industrial computing. With the acquisition of Ampro Computers, Inc. and LiPPERT Embedded Computers GmbH, ADLINK also provides a wide range of rugged by design Extreme Rugged™ and Rugged product lines including single board computers, COMs and systems.
ADLINK strives to minimize the total cost of ownership (TCO) of its customers by providing customization and system integration services, maintaining low manufacturing costs, and extending the lifecycle of its products. ADLINK is a global company with headquarters and manufacturing in Taiwan; R&D and integration in Taiwan, China, the US, and Germany; and an extensive network of worldwide sales and support offices.
ADLINK is ISO-9001, ISO-14001, ISO-13485 and TL9000 certified, is an Associate Member of the Intel® Intelligent System Alliance, an Executive Member of PICMG, a Sponsor Member of the PXI Systems Alliance, an Executive Member of PC/104 Consortium, a Strategic Member of the AXIe Consortium, and a member of VMEbus International Trade Association (VITA). ADLINK is a publicly traded company listed on the TAIEX Taiwan Stock Exchange (stock code: 6166).
Embedded Vision
This content is part of the Embedded Vision curated collection. To learn more about Embedded Vision,
click here
.