Productive Robotics Introduces OB7-Stretch, the Fourth Model of its Line of Next-Generation Teachable Cobots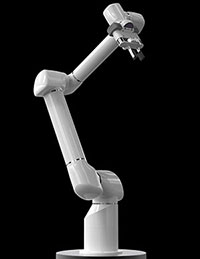 CARPINTERIA, Calif. — Productive Robotics, Inc. introduces a fourth model of its next-generation teachable collaborative robots (cobots), OB7-Stretch. OB7-Stretch is the cobot that customers have been asking for—simple, affordable, and with a longer reach to handle parts and machines with longer distances. OB7-Stretch is similar to the standard OB7 5kg model, but longer with a reach of 1.25 meters and a slightly lower payload of 4kg.
"We have many customer's applications that need a bit more reach, but have lighter payload needs. OB7-Stretch was designed for those applications," states Zac Bogart, president of Productive Robotics.
Applications that will benefit greatly from OB-Stretch are those that require a longer reach to pick up a part or reaching deeper into machines. Specifically, applications in plastics molding, packaging, and palletizing will benefit greatly. In CNC machine tending, OB7-Stretch can tend multiple machines at one time when the robot needs to reach more than one machine, and when the robot needs to reach deeply into a machine.
While Productive Robotics has two larger models with longer reaches, OB7-Max 12 and OB7-Max 8, OB7-Stretch provides a cost-effective alternative to the higher payload and reach robots, priced the same as the standard OB7 model.
"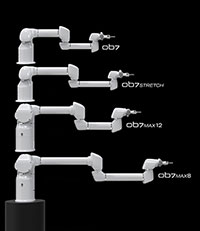 We've had a lot of requests for a reasonably priced collaborative robot with a longer reach than is available on the market. OB7-Stretch is that product," states Zac Bogart.
OB7-Stretch is the fourth addition to the OB7 family. The three other cobot models include standard OB7 (5kg payload and 1 meter reach), OB7-Max 12 (12kg and 1.3 meter reach), and OB7-Max 8 (8kg payload and 1.7 meter reach). Each robot is built with seven-axis capabilities and "no programming", simple, teaching platform – the user simply shows OB7 how to do the job and OB7 learns – providing customers with complete ease of use.
OB7 offers ultimate flexibility thanks to its seventh axis. Like a human arm, seven joints give OB7 the flexibility and dexterity to reach around objects or obstacles where others can't. Unlike a human arm, each of OB7's joints can rotate 360 degrees in both directions allowing the cobot to work in more confined workspaces and areas that a six-axis robot can't reach.