Precise Measurement of Holes – Support of Various 3D Sensors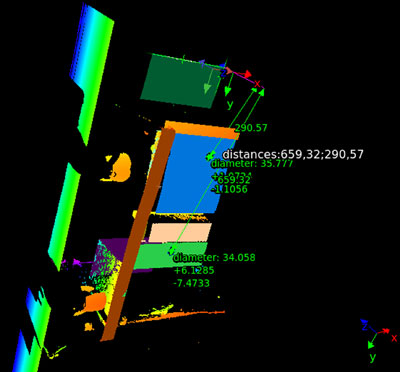 EyeVision 3D software offers precise 3D measurements with more than 40 specialized commands. Additionally the image processing software supports various 3D sensors of different technologies.
For example: AT Automation Technology, Gocator von LMI, Basler ToF, Wenglor, QuellTech, ShapeDrive, Zivid, etc (see table below).
The measurement of holes and the determination of their position is a special challenge. In case of sheet metal components it is possible by visual 3D metrology to capture the whole component geometry liminary in a high-resolution point cloud. Typical characteristics such as hole patterns as well as cut/trimming, resilience on edge laps of car bodies can also be measured exactly.
A precise metrology command set allows to correctly define various measurements in a point cloud and their coordinates in relation to other results with only a few commands.
Commands such as the 3DMatch facilitate the solutions in the RobotVision sector. For example the 3DMatch allows the user to calculate if the gripper has enough space to pick up the object. A simple but very effective tool, which saves the production line many interruptions.
For the inspection of weld seams, as well as adhesive beads the EyeVision 3D software has to offer the ProfileMatch command. Just a simple parametrization allows the evaluation of profiles and also issues an analysis of the detected defect. This is running along several profiles and defects such as holes, enclosures, or interruptions can be detected.
A detailed protocol for all measurement results can be issued with just a few mouse clicks.
The connection of the whole system onto an existing SPS is possible via the integration of ProfiNet.
As the complete command set of the EyeVision software is also available, it is possible to mix the application with 2D cameras and 3D sensors. The point cloud can be also displayed as 2 ½D image and therefore it is possible to read for example an embossed or engraved lettering with a 2D OCR module. This is for example useful, when reading DOT code on a tire or stamped numbers in metal.
3D Technology
EyeVision 3D Supported Maker
Stereo Vision
RealSense
Zivid
Chromasens
Time of Flight
Basler ToF
BlueTechnix
Shape-by-Shading
ShapeDrive
LMI
Laser Triangulation
AT Automation Technology
Wenglor
LMI (Gocator)
VRmagic
QuellTech
3D Cameras
PhotoFocus
More 3D sensors which will be supported by EyeVision 3D are about to follow.