Powerful Emitters with Short Rise Times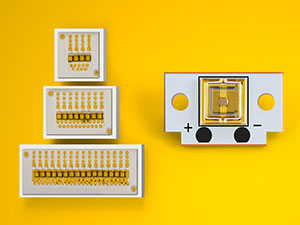 VCSELs for Greater Range and Higher Resolution in LiDAR Applications
Bedford, NH - LASER COMPONENTS has expanded its range of VCSEL lasers. Its wide range of products now includes emitters with 850 nm and 940 nm in power classes between 200 mW and 50 W. All products are characterized by extremely short rise times and thus support pulse trains in the low nanosecond range and below. Thanks to the semiconductor structure, the emission wavelength remains nearly constant, even with temperature fluctuations. This allows narrow-band bandpass filters to be used on the detector side. Upon customer request, the laser diodes are also available as powerful arrays.

In vertical-cavity surface-emitting lasers (VCSELs), light is emitted perpendicular to the chip's surface and can therefore be easily collimated. The high power and short pulse sequence of the compact multi-mode lasers make this technology attractive for the LiDAR market, among others. There, these properties ensure greater ranges and higher resolutions. Market researchers therefore assume that the global market for VCSEL lasers will grow rapidly in the next ten years.
About LASER COMPONENTS
LASER COMPONENTS specializes in the development, manufacture, and sale of components and services in the laser and optoelectronics industry. At LASER COMPONENTS, we have been serving customers since 1982 with sales branches in five different countries. We have been producing in house since 1986 with production facilities in Germany, Canada, and the United States. In-house production makes up approximately half of our sales revenue. A family-run business, we have more than 220 employees worldwide.