Powerful DOBOT's Cobots to Boost Material Handling

Robotic material handling is a part of the necessary manufacturing automation. Cobots are here to help manufacturers build an effective robotic tending system. They cannot replace humans as they work alongside to prevent them from repetitive hazardous tasks.
We will further dive into the pool of the solutions, their advantages for businesses and finally discover automation based on the diverse production needs with DOBOT.
What is Material Handling: Market Overview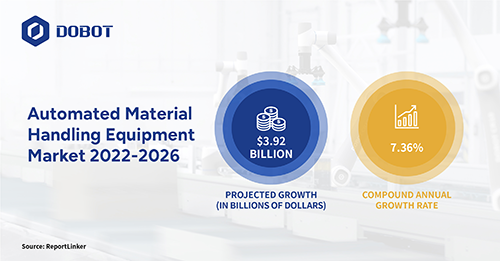 Many businesses invest in the automatization of different manufacturing processes, including material handling. This application is known as one of the most famous for its automotive algorithms. Most production lines deploy robotic solutions globally.
The robotic material handling expansion of the market is projected to rise. According to ReportLinker, the automated equipment market is forecasted to grow by $3.92 billion from 2022 to 2026. This is estimated to be nearly one billion per year starting from 2022.
Top 3 Robotic Material Handling Applications
There is an extensive pool of robotic applications to use in material handling. There are multiple choices: loading and unloading, pick-and-place, bin picking, and palletizing. Let's discuss some of them.
Automated Loading & Unloading
Loading and unloading various products on the conveyor lines might be cumbersome. Cobots can assist you with this task. Having a payload of 0.5 kg to 16 kg, DOBOT collaborative robots tackle the challenges and bring the benefits to the table:
When choosing the equipment, it is also critical to consider the appropriate payload and speed requirements to select the most suitable for the manufacturing needs robotic arm. Also, there are various types of end-of-arm tooling and grippers. The weight of the robotic accessories varies and depends on the industry, application set, etc. Hence, it is essential to pick the one that fits the facility layout, type of material, and type of cobot deployed for the machine handling task.
Robotic Palletizing
Cobots are useful in palletizing and depalletizing tasks as they assist with packing, keeping up with speed, and saving the quality of products.
Is not it something inspiring about automation? Find out our DOBOT M1 palletizing solution in cooperation with Siemens PLC & HLM:
Part Transferring
A diverse set of manufacturing tasks requires moving parts from one area to another across a facility. And thus, manufacturers should imply automation and innovate this tedious, repetitive task using material handling solutions.
A robotic material handler will effectively distribute parts of production processes and ensure operational efficiency.
Different types of robotic applications have their benefits. And therefore, businesses and manufacturers should discover them to start deploying soon.
How Businesses Can Benefit from Robotic Material Handling Solutions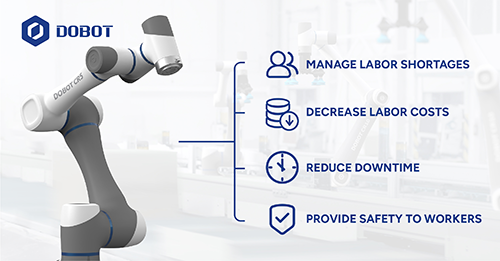 Robotic material handling solutions deliver significant productivity gains for businesses.
robotic material handling decreases labor costs
Material handling automation can sufficiently decrease high labor costs and enhance the efficiency of production lines. Cobots will improve working conditions and thus reduce employee compensation claims for injuries.
automated material handling reduces downtime
In addition, handling material deploying robotic solutions reduces unplanned downtime. DOBOT cobots working 24/7 will significantly improve work efficiency and reduce downtime. They do not need to rest, as they are never tired. Productivity of our robotic arms compared to manual material handling tasks is much higher.
robotic material handling manages labor shortages
Material handling faces labor shortages during the seasonal peaks.
How?
Handling managed by robotic arms does not have any seasonal peaks related to labor shortages. Therefore, get ready for automation and technological progress in advance, as demand prevention is key to success.
automated material handling solutions provide safety to workers
Collaborative robots protect humans from risky, dangerous tending tasks. They reduce the constant flow of injuries and minimize the costs. A significant task for a manufacturer is to provide safety for their workers. As cobots work alongside humans, it will help increase safety edge and avoid possible production bottlenecks.
All these advantages of deploying automated tending lead to a high productivity level among all the manufacturing processes.
Innovate and optimize material handling tasks with DOBOT cobots.