Powerful DC Motor in a Small Size
Fal

l River, MA – With the introduction of the RE 8, maxon responds to the need for smaller and smaller drives. The motor has a diameter of 8mm, a length of 16mm and weights less than 4 grams. The motor shaft is as thin as pencil lead at only 0.8 mm in diameter and turns in two sleeve bearings. The shaft is ceramic and in some ways superior to a steel one, as its electrical insulating properties allow for a very compact commutator design. Precious metal brushes also ensure constant and low contact resistance between brushes and commutator, even after a pro-longed standstill.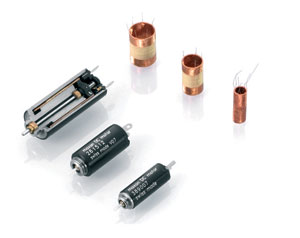 The lightweight rotor has very specific advantages, such as low inertia and very fast acceleration. There is no magnetic detent and minimal electromagnetic interference. Maxon's ironless winding allows for greater efficiency and makes it highly suitable for network independent applications, such as lasers, leveling equipment or insulin pumps.

Planetary gearheads can be attached for certain applications where the given motor speed is too high and inertia too low. The modular system can also provide a sensor for detecting speed and position.