Positioning with Maximum Reliability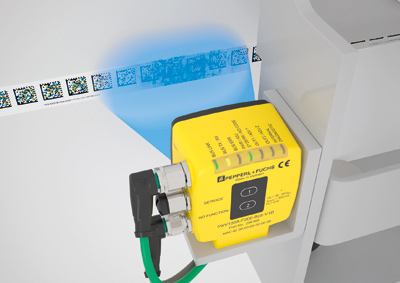 Large Reading Window and Codes Enhance Performance of 2-D System.
The PXV 2-D absolute positioning system from Pepperl+Fuchs sets new performance benchmarks when it comes to reliability and handling. With its large reading window, the system keeps a sufficient number of codes in view, even in relation to track switches and changes to the code tape. Precise positioning is guaranteed at all times.
DataMatrix-Codeband SafePXV
Six years of experience with the PCV system have helped to shape the development of the PXV. The reading window of the PXV has been enlarged to 120 x 80 mm, meaning that the Data Matrix code tape is always located within the detection range. Mounting and commissioning are easier, and plant availability is further improved. The reading window has an increased depth of focus range, allowing it to capture even more codes simultaneously and also guarantee position detection through multiple redundancy.
Unlike other systems available on the market, the PXV requires only a 2-D camera, ensuring that irritation relating to track switches is excluded. To prevent this, the cameras in the two-camera systems can receive the relevant differing position signals in these areas.
A certain degree of contamination on the code tape is often unavoidable during everyday operation. For this reason, the codes for the PXV have been expanded to 15 x 15 mm without compromising the resolution, and the "coarse-grained" design ensures that they are unaffected by pollution. Thanks to redundant detection, the system also cannot be disrupted by the destruction of individual codes. The code tape can be interrupted by a stretch of up to 80 mm without affecting position detection.
Innovative Safety Technology
The new safePXV manages all that a single positioning system can with just one sensor. The new safety technology combines a 2-D reader with a three-colored Data Matrix code tape. The special code tape contains two overlapping Data Matrix codes in red and blue. The 2-D reader is equipped with two different colored LED rings—also red and blue. These rings are activated separately and then read just one Data Matrix code each. An SIL 3/PL e absolute position is always provided as the result.