POSITAL Motor Feedback Kit Encoders Support 2- and 4-Wire Single-Cable Connections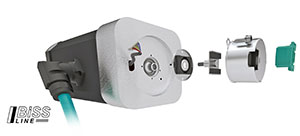 Hamilton, New Jersey – POSITAL has announced the full implementation of 2- and 4-wire versions of the single-cable BiSS Line interface for its family of motor feedback kit encoders. The combination of single-cable connectivity and POSITAL's cost-efficient kit encoders provides motor manufacturers, machine builders and system integrators an economical way of building accurate, reliable absolute position feedback into devices such as servo-motors, stepper motors and robotic joints.
The single-cable approach to motor connectivity offers significant cost savings from reduced component count to simplified installation procedures. This is especially true with smaller motors where finding space for two connectors has always been awkward. With the 4-wire version, there are separate wire pairs for power and data transmission, both wire pairs packaged in a single cable. For 2-wire implementations, modulated data signals share the conductor pair with the power supply. By supporting both 2- and 4-wire implementations of the BiSS Line interface, POSITAL ensures compatibility with PLCs and controllers from most major manufacturers. The company also supports BiSS C multi-cable interfaces.
Interfaces for POSITAL's kit encoders make use of the BiSS series of open-source data communications protocols, a highly functional set of technologies that offer advanced features, including Forward Error Correction. FEC, based on Reed-Solomon coding, can detect and correct transmission errors at the receiver, reducing the need for retransmission. This ensures high availability of the interface, even under difficult environmental conditions, and makes it possible to use simple hybrid motor cables, even where motor brakes are used. The BiSS implementation of FEC is highly efficient, with a bus cycle time of 62.5 µs, ensuring excellent dynamic response. Device configuration is handled in a consistent manner for BiSS C, BiSS Line 2-wire and BiSS Line 4-wire implementations, allowing customers to easily migrate between the physical configurations without having to make application-level software changes. BiSS technology can be licensed from the BiSS Association e.V at no cost.
About FRABA and POSITAL
POSITAL is a supplier of advanced industrial position sensors used in a wide variety of motion control and safety systems. The company is also an innovator in product design and manufacturing processes and a pioneer of Industry 4.0 (Industrial Internet of Things/IIoT), offering customers the benefits of built-to-order products combined with the price advantages of mass-production. POSITAL is a member of the international FRABA group, whose history dates back to 1918, when its predecessor, Franz Baumgartner elektrische Apparate GmbH, was established in Cologne, Germany to manufacture relays. Since then, the company has played a trendsetting role in the development of rotary encoders, inclinometers and other sensor products. POSITAL has a global reach with subsidiaries in Europe, North America and Asia – and sales and distribution partners around the world.