POSITAL Measuring Wheels: Linear Position and Speed Sensing with Rotary Encoders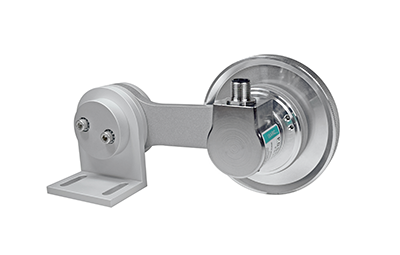 Hamilton, New Jersey – POSITAL's measuring wheel accessories for its IXARC family of rotary encoders enables these devices to make accurate linear motions and position measurements. "Encoders are great for measuring rotation", comments Andy Zou, Product Manager at POSITAL. "However, for many production processes, measurement of linear speed or position is the key objective. Adding a measuring wheel to a POSITAL encoder produces an accurate and versatile tool for these measurements." For conveyer belt systems for example, wheel-equipped encoders can provide precise speed and position controls that can be used to synchronize the motion of multiple conveyers in complex material handling systems. Since the wheel-encoder assemblies make measurements directly from the moving surface, they improve accuracy by eliminating errors due to gear backlash or hysteresis. For cut-to-length applications, wheel/encoder assemblies can measure position directly from the surface of solid materials such as fabric, paper, wire, or sheet metal. In this operation, accuracy will improve productivity by reducing scrap losses. Measuring wheels are available in different sizes, with circumferences of 200 mm, 500 mm, or 12 inches. Four rim treatments are available: knurled aluminum, smooth polyurethane, and two tread patterns for the polyurethane tire.
POSITAL has introduced a new spring-loaded pivot arm mounting system for wheel-encoder assemblies. Like earlier spring-loaded mounting brackets, this device is designed to minimize slippage by maintaining a steady contact pressure between the wheel and the moving surface. However, the pivot arm can accommodate larger lateral movements of the moving surface. Spring tension can be adjusted for optimal contact pressure between the wheel and the moving surface. In addition, the position of the arm on the spring hub can be reversed, enabling the installer to change the direction of the spring load.
About FRABA and POSITAL
POSITAL is a supplier of advanced industrial position sensors used in a wide variety of motion control and safety systems. The company is also an innovator in product design and manufacturing processes and a pioneer of Industry 4.0 (Industrial Internet of Things/IIoT), offering customers the benefits of built-to-order products combined with the price advantages of mass-production. POSITAL is a member of the international FRABA group, whose history dates back to 1918, when its predecessor, Franz Baumgartner elektrische Apparate GmbH, was established in Cologne, Germany to manufacture relays. Since then, the company has played a trendsetting role in the development of rotary encoders, inclinometers and other sensor products. POSITAL has a global reach with subsidiaries in Europe, North America and Asia – and sales and distribution partners around the world.