POSITAL expands portfolio of rotary encoders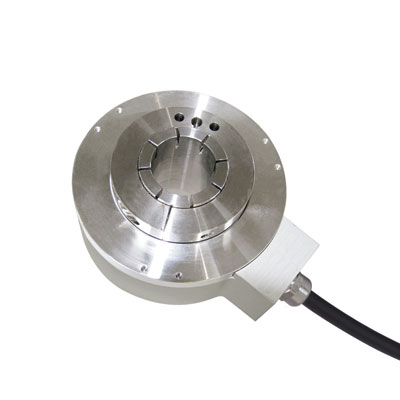 New Through Hollow Incremental Encoders for Easy Installation and Accurate Measurement
Hamilton, New Jersey – POSITAL has extended is portfolio of rotary encoders with a new family of through-hollow incremental encoders. These devices are designed to be installed with the machine shaft passing through the sensor. They can be used to monitor rotary motion in a wide variety of machinery, including servomotors, material handling equipment and printing presses, offering cost-effective, space-saving solutions. For motors, they can be easily installed between the body of the motor and other components mounted on the shaft.
POSITAL's through hollow encoders are available for shaft diameters ranging from 3/8 inch (9.5 mm) to 1-3/4 inch (44.5 mm). The smaller units (up to 14 mm shaft opening) have an external diameter of 2-1/4 inch (58 mm), while the larger units (5/8 inch to 1-3/4 inch shaft size) have external diameters of 3 or 4 inches (77 or 100 mm). Available resolutions for these devices extend from 360 PPR to 4096 PPR (pulses per revolution).
All through hollow encoders have rugged aluminum housings and environmental protection rated at IP65, ensuring longevity and high levels of operational safety. All variants are available with a variety of communications interfaces, including RS422 (TTL) 5V or 11-30V and Push-Pull (HTL, 5-30V). Connection options include built-in cables or MIL-type connectors.
POSITAL's through hollow encoders are an attractive option for machine builders and system integrators who are looking for accurate motion feedback devices that are easy to build into new or existing designs.
About FRABA and POSITAL
POSITAL is a supplier of advanced industrial position sensors used in a wide variety of motion control and safety systems. The company is also an innovator in product design and manufacturing processes and a pioneer of Industry 4.0 (Industrial Internet of Things/IIoT), offering customers the benefits of built-to-order products combined with the price advantages of mass-production. POSITAL is a member of the international FRABA group, whose history dates back to 1918, when its predecessor, Franz Baumgartner elektrische Apparate GmbH, was established in Cologne, Germany to manufacture relays. Since then, the company has played a trendsetting role in the development of rotary encoders, inclinometers and other sensor products. POSITAL has a global reach with subsidiaries in Europe, North America and Asia – and sales and distribution partners around the world.