POSITAL Announces Position Sensors with Modbus RTU Interface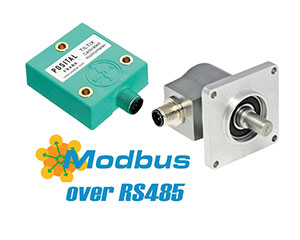 Hamilton, New Jersey – Along developing exciting new products, POSITAL continuously updates its established product portfolio to improve performance and meet emerging needs. A recent example has been the expansion of the company's series of rotary encoders and inclinometers to include models with the Modbus RTU communications interface. This interface has recently experienced a surge in popularity for use in solar installations.
Modbus RTU is a low-cost, easy-to-implement communications protocol that is commonly used in mid-sized control systems (up to 32 nodes). Available for almost four decades, it is supported by many PLC manufacturers. In addition to solar installations, the interface is used in packaging lines and mobile machinery. The Modbus RTU protocol makes use of the RS485 transmission standard, based on shielded twisted pair cabling. This combination can communicate reliably over distances of more than 1,000 metres, even in the presence of electromagnetic interference (EMI).
POSITAL IXARC encoders with the Modbus RTU interface are available in a wide range of mechanical configurations. Customers can select exactly what they need in terms of housing material and levels of environmental protection, shaft type and diameter, mounting flange, and connector type. Customers can also choose between single- and multi-turn measurement ranges. For multi-turn models, the rotation counter is powered by a Wiegand sensor that harvests energy from the rotation of the device's shaft. This ensures that each complete rotation is reliably recorded, even when power to the control system is unavailable. With no need for backup batteries or complex gear systems, maintenance costs are virtually zero.
POSITAL's Modbus support extends to the company's TILTIX range of inclinometers. These devices are used in solar panels, material handling equipment, safety systems for mobile machinery and anywhere else it is important to monitor the tilt angle of equipment or components.
POSITAL makes it easy for customers to find the right Modbus RTU encoder or inclinometer for their specific application. The Product Finder tool at www.posital.com enables a customer to specify the product features required for their project and quickly zero in on the most suitable products. With POSITAL's digital "Mass Customization" production system, sensors – whatever their special features – are usually built and shipped in a few days. Minimum Order Quantity? One!
About FRABA and POSITAL
POSITAL is a supplier of advanced industrial position sensors used in a wide variety of motion control and safety systems. The company is also an innovator in product design and manufacturing processes and a pioneer of Industry 4.0 (Industrial Internet of Things/IIoT), offering customers the benefits of built-to-order products combined with the price advantages of mass-production. POSITAL is a member of the international FRABA group, whose history dates back to 1918, when its predecessor, Franz Baumgartner elektrische Apparate GmbH, was established in Cologne, Germany to manufacture relays. Since then, the company has played a trendsetting role in the development of rotary encoders, inclinometers and other sensor products. POSITAL has a global reach with subsidiaries in Europe, North America and Asia – and sales and distribution partners around the world.