PosCon 3D Edge Sensor
rong>Edge sensor PosCon 3D - powerful, reliable, easy-to-operate

New measurement sensor reliably determines width and edge position in difficult applications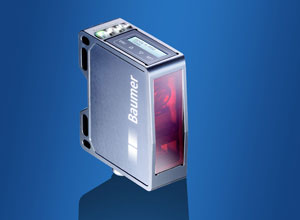 The innovative optical edge sensor PosCon 3D by Baumer is the most powerful in its class. It will reliably master tasks which previously required complex laser measuring systems. Additionally the PosCon 3D provides impressive convenience in both operation and installation. Multiple capabilities make the sensor a versatile solution to reliably detect edge positions and object or gap width in applications such as gap control in packaging machines or width and edge monitoring in lumber and paper processing.

Requiring no separate reflector, the PosCon 3D is able to reliably measure objects regardless of movements toward and away from the sensor with no adverse effects. PosCon 3D will reliably identify any object - independent of its color and surface.

The sensor's Target design allows easy system integration in an early planning stage using the sensor CAD data. This patented design features ensure exceptionally tight tolerances on beam placement, allowing the design team to rest assured that sensors will operate consistently from one machine to another. Sensor
operation is as easy: install, align to the object and select the required language on the touch display – that's it.

PosCon 3D provides the utmost application flexibility. Edge positions are reliably detected even when
installed in any non-vertical position with a lateral angle up to 30°. The object width is identified within
fractions of a second and with an accuracy of 0.02 millimeter – regardless of the object position within the
measuring field.

PosCon 3D can also identify an object's center position. As soon as the object is outside the acceptable
tolerance range, the sensor will trigger a switching output, indicating a failure condition.

Learn more about the PosCon 3D at: www.baumer.com/poscon3d/

The Baumer Group is an internationally leading manufacturer of sensors, encoders, measuring instruments
and automated image-processing components. Baumer combines innovative technology and
customer-oriented service with intelligent solutions for factory and process automation and provides a unique range of products and technologies. The family company has around 2,300 employees with manufacturing facilities, sales offices and agents in 37 offices and 19 countries, always close to the customer. With consistently high quality standards worldwide and a huge potential for innovation, Baumer brings their customers critical advantages and measurable added value across many industries.