Portable 4 Camera High Speed Recording System for Biomechanical Applications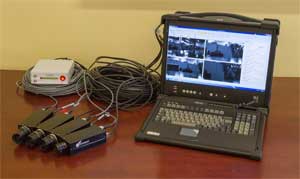 Norpix introduces a new portable 4 camera high speed recording system for Biomechanical applications.

This new top of the line StreamPix based recording system can record from 4 synchronized cameras at speeds of up to 330 frames per second and a resolution of 2048 x 1088 in 8 bit format.

Ideal for various applications in the field of biomechanics.
Motion Capture
Sports Biomechanics
Animal Science
Ergonomics
Kinematics
Equine Biomechanics
Portable system for outdoor use.
Record from 4 cameras at 2048 x 1088 x 330 fps each.
Synchronized acquisition with GPS or IRIG B data.
DAQ analog data capture.
10 GigE Vision for long cable lengths.
Pressure matts from Novel with triggering for start stop operation.
Learn more here.

About NorPix, Inc.
Established in 1999, NorPix is the leading developer of digital video recording software for the life science, machine vision, image analysis, special effects and mapping industry. Our flagship StreamPix software is the industry's leading DVR solution. NorPix is based in Montreal, Canada.