Pneumatic PHL and Electric EGA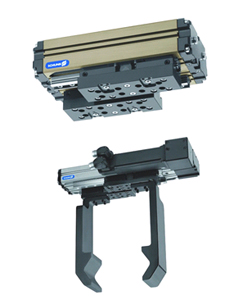 The PHL from SCHUNK comes in two versions: The pneumatic PHL and the electric EGA.
The standard PHL alternatively has the bearing options of a multi-tooth guidance or a profiled rail guidance, which increases the degree of efficiency of the gripper. For many applications, smaller and more cost-efficient sizes can now be selected. Thus over-sizing is avoided, the air consumption and energy is minimized, and the required space for applications is reduced.
With multi-tooth jaw guidance, the PHL is particularly suitable for rough environments. The gripper can be equipped with roller bearings and profiled rail guidance, achieving a higher degree of efficiency. The carriage for the gripper fingers are equipped with ball bearings, which minimizes friction and evenly distributes forces. Since the jaw guide is sealed and permanently lubricated, the bearing capacity of the gripper increases and reduces wear. Users benefit from the reliability, precision and long service life of the gripper.
The PHL is available in five sizes with piston diameters between 25-63 mm (1"-2.5"), generating gripping forces up to 3250N (740 lbf). The long stroke ranges up to 320 mm (12.5") of total stroke and the maximum admissible finger length is 500mm (20") which increases the flexibility in design. Every size is available as a special version with Vinton seals for high temperatures of up to 130 °C (266° F). Gripper positions can be monitored by inductive proximity switches or magnetic switches.
The electric version of the PHL is the EGA and is the most flexible standard long-stroke gripper on the market. Due to the easy integration of the system's control unit, all the features can be transferred from the current system onto the module, and offers the advantage of a direct interpolation and control of additional robot axes.