Plugin for the Open Source GStreamer Library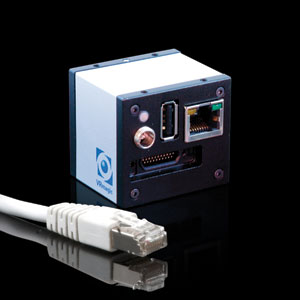 Intelligent, Linux-based cameras and frame grabbers by the German camera manufacturer VRmagic can now also easily transfer processed image data via Ethernet. The integration of a plugin for the open source GStreamer library in the VRmagic Software Development Kit (SDK) makes this possible. GStreamer is a cross-platform open source library for multimedia applications and implements several IP streaming protocols (TCP, UDP, RTP, RTCP and RTSP).

In addition to the convenient Ethernet streaming of processed images, the VRmagic plugin offers diverse functions for image capturing and camera control. Through GStreamer, developers have direct access to the VRmagic image encoder, which converts raw sensor data into several target formats such as RGB565, YUV or RLE. The TI Codecs, JPEG, MPEG4, and H.264 can also be directly integrated via GStreamer.
GSteamer's generic programming interface allows users to combine arbitrary codecs and filters to form an image processing pipeline. Users can choose from the existing, extensive collection of plugins, which is constantly being expanded and further developed. The replacement of a plugin with a more recent version does not require additional programming.
About VRmagic
Headquartered in Mannheim, Germany, VRmagic develops, manufactures and sells cameras for industrial image processing, optical tracking systems and VR technology. The second business division specializes in simulators for medical training.