Plenty of light, but little noise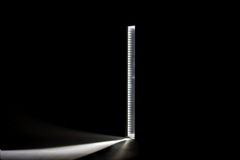 The improved performance of modern camera systems has considerably increased their significance in the conception and design of image capturing solutions. However, at the same time, a central concept is often neglected, as Markus Schnitzlein, Managing Director of Chromasens GmbH, emphasises: "In addition to a high-quality camera, every brilliant image also requires outstanding illumination." With its bright, homogeneous and stable light characteristics, the CORONA II high performance LED module developed by Chromasens meets the increased requirements of digital image processing.
Only the optimal interplay of light, optics, sensor technology and electronics delivers an optimal scan result. This particularly applies to the use of current camera models with their high line scan frequencies.
"Ultimately, it is the line frequency which determines the necessary illumination strength. The higher the image frequency, the shorter the exposure time and the more light is required per unit of time. Signal amplification, as recommended by some camera manufacturers, only results in increased noise levels, not better images", explains Markus Schnitzlein.
In addition to sufficient irradiance on the object, the distinguishing features of ideal illumination are homogeneous light distribution, the homogeneity of the emission spectrum and the homogeneity of the light output. Nowadays, modern LED illumination systems satisfy these criteria universally and are displacing traditional illumination systems such as those based on classical halogen or xenon high pressure lamps all the more often. "In terms of life span, stability and handling, the LED wins on all counts", says Markus Schnitzlein.
Mirrors instead of lenses
The CORONA II illumination system was designed by Chromasens with the aim of being able to offer exceptionally homogeneous light distribution and high-performance line illumination for low-noise colour image capturing. Focussing at 60 mm and appropriate heat dissipation allow illumination strengths of up to 2.5 million lux.

The use of just one single LED selection class means that there are no measurable deviations in terms of colour within the illumination line. The CORONA II focuses the emitted LED light using special, patented reflector technology, which allows perfect shaping of the light and outstanding homogeneity of the light distribution in the focus range. Due to the use of a mirror to focus the light (reflective light focussing), there are no chromatic aberrations, in contrast to illumination systems employing rod lenses (refractive light focussing). Consequently, the CORONA II creates extraordinarily good spectral homogeneity in the illumination focus without colour deviations.

Control system allows optimal image quality
The brightness setting is performed via the user-friendly PC operating software "Illumination Setup Tool" (IST). The control can alternatively be performed manually by the user or automatically. To this end, the controller of the illumination module features an Ethernet port.

The latest generation of intelligent line scan cameras – such as the allPIXA developed by Chromasens – thus opens up the possibility to set the settings of the illumination's properties individually depending on the current ambient conditions via a control system.

"If the camera's sensor technology determines that the object being viewed is very dark, the image is lightened by boosting the illumination in order to be able to use the same grey value or colour range of the camera. The result: sharp, clear images", explains Markus Schnitzlein

Adaptable to suit requirements and surroundings
The CORONA II is available in the standard lengths of 180mm, 350mm, 520mm and 690mm in all relevant light colours (R, G, B and white) as well as with focus lengths of 60, 95 and 190 mm. The illumination modules can be employed as often as required in a row without the light homogeneity being affected.

The strictest requirements were also taken into account in the development of the housing. The robust, dust-tight aluminium housing means the illumination modules are also best protected for industrial environments. Simple system integration is also possible thanks to existing installation holes.

The CORONA II has a particularly effective passive cooling system. Its cooling system can be adapted to suit the installation conditions and light output requirements via the selection of a suitable cooling element. There is also a liquid cooling system available for extreme requirements.

Highlights:
Excellent price/performance ratio
Outstanding homogeneity
Very high illuminance
External control unit – compact shape in mounting area
Narrow defined spectral properties
Robust housing
Easy mounting
Versatile solution for heat dissipation, both active and passive