Plastic Bushing Made of Renewable Materials
rong>igus develops environmentally friendly bioplastic

East Providence, RI – igus® has developed a new ecological plastic bushing made of 54 percent raw, renewable materials. use vegetable oil rather than the more traditionally used crude oil. They are ideal for low-load applications in a variety of different industries such as consumer products, general mechanical engineering and furniture.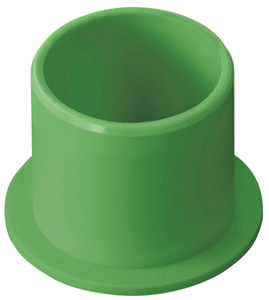 "The new, self-lubricating iglide N54 material is the first step towards developing an environmentally friendly, or "green", plastic bushing," explains Tom Miller, Bearings Unit Manager for igus.

Ecological advantages
iglide N54 fits seamlessly with igus' commitment to developing environmentally friendly plastic bushings to replace metal or bronze bearings that require messy lubrication. In comparison, every iglide plastic bushing uses solid lubricants embedded inside millions of tiny chambers that cannot be pressed out. This means the bushings do not require any oil or grease and so no contaminants are released into the environment. In addition, an iglide plastic bushing is lighter than its metal counterpart, which leads to reduced energy consumption.

Furthermore, less energy is required for the production of plastics compared to metals. For example, the energy from four gallons of crude oil is necessary to produce four cups of aluminum, and the energy from three gallons of crude oil is necessary to produce four cups of steel. In comparison, it only takes 0.48 gallons of crude oil to create four cups of plastic and igus expects this value to fall even further based on continued breakthroughs in the field of vegetable-oil-based plastics.

According to the European Bioplastics Association, which serves as both a contact platform and catalyst for advancing the aims of this growing industry, the global production capacity for bioplastics will more than double from 2010 to 2015.

About igus
igus develops industry-leading Energy Chain® cable carriers, Chainflex® continuous-flex cables, iglide plastic plain bearings, igubal® spherical bearings, and DryLin® linear bearings and guide systems. These seemingly unrelated products are linked together through a belief in making functionally advanced, yet affordable plastic components and assemblies. With plastic bearing experience since 1964, cable carrier experience since 1971 and continuous-flex cable since 1989, igus provides the right solution from over 80,000 products available from stock. No minimum order required. For more information, contact igus at (800) 521-2747.

igus, iglide, Energy Chain, Chainflex, igubal, and DryLin are registered trademarks of igus Inc. All other company names and products are trademarks or registered trademarks of their respective companies.